Huber's: a Kentuckiana fall tradition
Thousands of residents in the Indiana and Kentucky communities visit Huber's Orchard and Winery annually to celebrate the fall season
As a packed, rickety wagon approaches an expansive field filled with vivid orange pumpkins, it is hard to deny the old cliche — fall is in the air.
Visiting Huber's Orchard and Winery during the fall season is a tradition in Kentuckiana. Patrons can shop at the Farm Market for fall treats and decorations and handpick pumpkins and apples in the orchards.
The orchard and vineyard estimate about 20,000 visitors during the fall season, according to farmer AJ Huber. Huber has been a farmer at the orchard and vineyards for over 20 years.
"Without a doubt, the most popular time for people to visit us at Huber's is the fall harvest time," Huber said.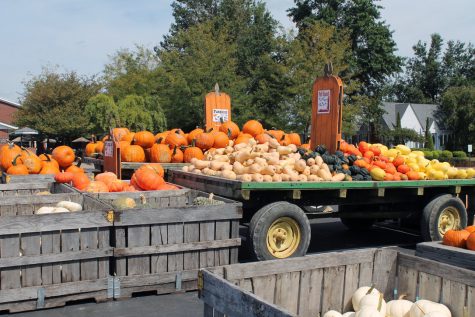 One of this season's visitors, Dorothy Miller, waited at a picnic table while her family took a trip to the pumpkin patch. She said although several leg surgeries prevent her from going down to the pumpkin patch, she enjoys coming to Huber's every year.
"We come up here from Shepherdsville every year and it's just a blast," Miller said. "The food is great and you meet some really nice people."
Full Fall Harvests
The fall season begins in mid-September and continues until the last weekend of October. During that time, apples, grapes and pumpkins are harvested diligently. Huber said these crops grow on about half the farm.
Huber said there are around 75 acres of pumpkins, gourds and fall squash grown during the harvest season. The sizes of these fields range from half an acre to 10 acres and get rotated every three to five years to ensure optimal growing conditions.
Planting pumpkins usually begins in the first week of June and about 10-20 acres are planted per week during a five-week period. Huber said this ensures patrons have fresh pumpkins to choose from for all of September and October.
Between one to five thousand pumpkins are grown per acre. The apples are grown on roughly 60 acres of the farm.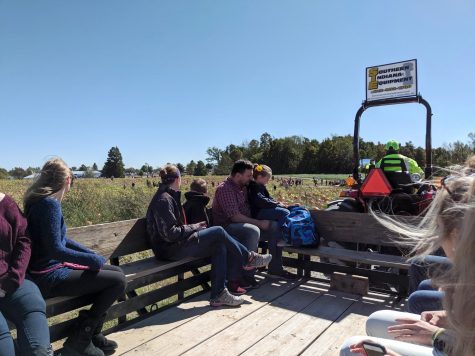 U-Pick
Joe Huber's Family Farm & Restaurant opens its Pumpkin Patch from Sept. 21 to Oct. 31, letting visitors board a wagon ride to the patch and pick their very own pumpkin from 9 a.m. to 7 p.m. in what is referred to as the "U-Pick Experience."
A portion of all proceeds from the U-Pick program benefit the WHAS Crusade For Children.
Kelly Simpson weighed pumpkins at the end of a U-Pick station on a busy October weekend. She said the U-Pick program generates a lot of traffic and revenue, especially on weekends.
"A lot of the money goes to a good cause so it's nice to see so many people come out," Simpson said.
The U-Pick program also extends to fruits like apples, peaches and strawberries, but is limited to a seasonal picking schedule found on the Huber's website.
AJ Huber said the pumpkin U-Pick program is the most popular part of the fall season by far.
Other Amenities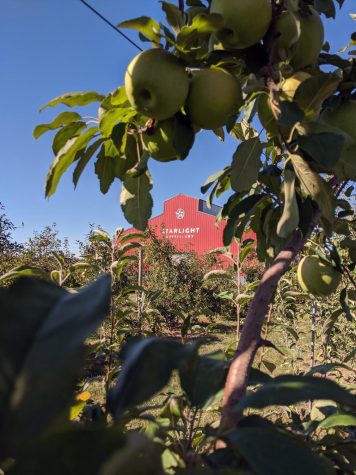 The orchard and winery hosts school tours during the fall season in its Family Farm Park. Miniature tractors, pedal karts, mountain slides and a corn maze are just a few of the Family Farm Park's features.
Company outings and weddings are also held in Huber's Plantation Hall. Huber said the Plantation Hall hosts live music performances almost every weekend.
Huber's Winery and Distillery both offer various tour and tasting packages, including a "Tour for Two" and "Girls' Day Out" options. The winery first produced its elixirs in 1978 and currently features over 30 brands of wine.
Visitors unable to partake in wine tastings can visit the Ice Cream and Cheese Shop, or enjoy a light lunch at the Starlight Cafe.
"We hope families can create lasting memories and traditions that will carry on for generations, just like our own family, which is now seeing its 8th generation born on the farm," Huber said. "At Huber's, we strive for all our visiting guests to have a wonderful time."