IUS students remember Katie Morris, raise funds to support family
IU Southeast art therapy major Katie Morris died Monday, Dec. 23, at age 20. She will be missed by her friends at IUS, where she was a proud member of sorority Alpha Phi.
Morris underwent a heart transplant at age 14 after a restrictive cardiomyopathy diagnosis. But even during subsequent health struggles, including a heart transplant rejection in December of 2018, she persevered.
"December 19, [2018] was the worst day of my life, but I wouldn't change it if I could," Morris said in a Red Dress Gala speech on Nov. 4 of this year. "Every day I am reminded of how blessed I am to live the life that I have. I am brave, determined, capable, smart, and I am an Alpha Phi."
"I had always wanted to be in a sorority," she said in the speech. "And after talking with current members of Alpha Phi and learning that their philanthropy cause was women's cardiac health, I was sold. These were my people."
Members of Alpha Phi said Morris was a sister to them.
"I met Katie through my sorority, Alpha Phi, and she was my 'little,'" 2018 IUS graduate Madison Reed said. "And from the moment I met her I knew that's who I wanted to be my 'little.' We connected in ways I've never connected with someone."
"She was kind and she was inclusive, and she thought more about others than about herself," Reed said. "She was just beautiful, a beautiful person inside and out. Stronger than anyone I've ever met, and she was only 20."
"
Katie was a beautiful soul. Her contagious smile would brighten any room. She was strong in who she was and what she believed in. Katie was a sister that was always there ready to give a pep talk and tell you that everything was going to be okay. Katie will forever be in my heart and my sister."
— Gabby Buckner, sophomore elementary education major
"She was an incredible light and loving energy through my [sorority] journey," IUS freshman Abigail Heine said. "She will always be in my heart and my sister."
Junior nursing major and Alpha Phi President Tori Cowell said Morris was an instrumental member of her sorority.
"Katie was always the light of the room," she said. "From her bright smile, to her contagious laugh, you always knew when Katie was in the room. Katie brought a vibrance to our chapter that will be greatly missed. Though she may no longer be with us on earth, she will always be our sister in Alpha Phi, and she will always be in our hearts.
Junior business major and Alpha Phi member Emma Day organized a GoFundMe fundraiser to support Morris' family. Day met Morris in seventh grade and the two were close friends since then.
"Katie was the friend that was always there for me," Day said. "She always knew when something was wrong just by the tone of my voice and she was always the first to ask if I was okay or if I wanted to talk."
"She had a sense of humor like no other human being I've ever met in my life. We could fight like sisters and love like sisters. It's hard to imagine life without her now, but I know she wouldn't want us to be sad for her. She'd want us to remember how goofy and fun she was."
"
Katie was an artist and on my 19th birthday she gave me a drawing of us. In her perfect calligraphy she wrote 'you are the sister I got to choose,' and that's what she was. Katie was the sister that I got to choose. I'm so lucky to have had her in my life and I know there will never be another like her. The world is a little less bright without our Katie Belle in it."
— Emma Day, junior business major
The fundraiser, which at time of publication has raised $3,785 of its $10,000 fundraising goal, was created by Day to help Morris' family.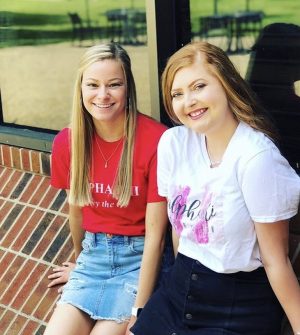 "All funds raised will go directly to the Morrises to help cover medical and funeral expenses," the fundraiser description reads. "Anything to help relieve this financial burden during their time of grief will be an immense blessing to this sweet family. Any thoughts, prayers, and well wishes to Katie's family will also be greatly appreciated. They need lots of love and support in this difficult season."
Click here to see the fundraiser.