Students navigate campus with flashlights during multi-week light outage
Campus community advised to be vigilant and stay in lit areas while walking
Students and faculty returned to IUS last week to find the campus a little darker than it was before. Eight lamp posts surrounding Crestview and the Life Sciences building have remained unlit for the past two weeks, leaving a high-traffic area of campus unlit at night.
"I don't like that I can't see where I am walking and I almost tripped on Monday night," visiting student Allison Cloud said while crossing the unlit area. "With it being super dark, it is a little uncomfortable." 
Executive Director of Facility Operations Rob Poff said his department is aware of the outage. He estimated the walkways have been unlit for about two weeks.
"We've got some underground wires that have failed and so we're going to have to replace those. We're working on it but we will have to get some locates before we do any digging," he said. 
Poff said the process of locating the underground wiring will begin this week and estimated the lights will be fixed within 10 business days. He said there is not a plan to provide temporary lighting for the affected area.
"Our guys have been here at night, and it is darker in those areas, but so far it doesn't seem to have posed anything major at this time. Any time a concern or something like a repair that is going to go on too long, then we will look at all of the options for sure," he said.
Poff said safety is the number one objective of not just his department, but of the whole campus.
Cloud said she thinks the issue should have been a priority for the department with classes starting this past week. 
"It definitely should have been taken care of because I noticed in the fall that there were a few [lights] that were starting to go out, but then I came back and noticed that it was completely dark," she said.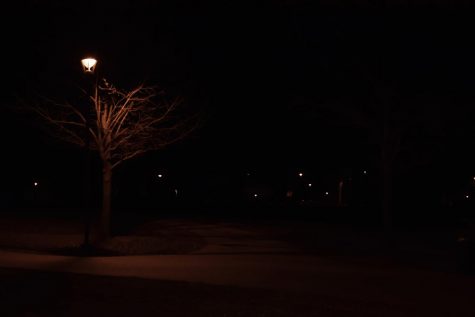 IUS Police Detective Monica Burnell-Wise told The Horizon students and staff should practice personal safety while navigating campus in the evening.
"Any time you're walking on campus during the evening hours when it's dark, we always encourage personal safety," Burnell-Wise said. "The buddy system, don't take shortcuts, stay in lit areas and just be vigilant. Don't be walking out to your car with a cell phone to your ear because that way you're not paying attention to your surroundings." 
IUS Associate Professor of Mathematics Dr. Mike Godbey said although the darkness causes him to feel uneasy, being unable to see the walkway is his biggest concern.
"If it is going to get cold and icy then it is definitely a major threat," Godbey said. "I'm not sure about temporary lighting. If they can do [the repairs] in two weeks then I'd say no, but if it is going to take longer, then yes." 
Students who feel unsafe can request a "safe walk" from the IUPD by calling 812-941-2400.
"[The outage] is a temporary thing," Burnell-Wise said. "I don't tell students to get into that mode of 'nothing bad will ever happen to me,' but to be vigilant, to stay on the main walkways and it should be alright. We always encourage students that if you see something, say so. If you see something suspicious or see someone that is acting suspiciously, then call us and let us know."
Update: As of Feb. 3, 2020, all campus lights have been restored to full working operation.