Grenadiers ground Eagles, Coach Wiley Brown wins #281
Men's coach honored as IUS routs Midway 72-48 on Senior Day
As the IUS men's basketball team prepared to host Midway in the second game of a women's-to-men's doubleheader, two men were honored before tipoff. The first was senior center Seth Cox as part of senior day celebrations.
The second was head coach Wiley Brown, who on Saturday, Feb. 8, won 105-93 at Asbury, giving him his 279th career victory — surpassing legendary Grenadier coach Jim Morris as the winningest coach in program history.
"It feels good, anytime you get a great guy like Coach Morris and be in that company, it feels real good," Brown said. "I've been blessed with great coaches and great players, so that's what I've been more proud of."
After surpassing Morris, Brown's Grenadiers beat Brescia 96-67, giving him an even 280 victories. That total increased once again as the Grenadiers easily defeated Midway 72-48. Cox, a senior transfer from Union College and a Greenfield, Indiana native, scored 11 points with 15 rebounds and five blocks.
The first half began with the Grenadiers seizing a 11-3 run. Despite the Eagles quickly closing the gap, it reopened just as quickly, based largely on the Grenadiers' superiority on the backboard, posting a 26-14 rebounding advantage including eight offensive boards. Add in David Burton, who scored 12 of his team-high 20 points in the half, and the Grenadiers ended up going into halftime up 36-22.
After both sides exchanged buckets to begin the second half, the Grenadier offense picked up once again thanks to a 16-4 run, pushing the deficit over 20 points, where it would remain for the rest of the half, helping the Grenadiers to their sixth straight victory.
Burton, Cox, and freshman Jocobi Hendricks combined to score 23 of the 36 Grenadier points in the second half. Hendricks chipped in 10 points total in the victory. The Eagles were led by Kwon Evans, who finished with 20 points, 13 rebounds, and five blocks.
With the victory, the Grenadiers move to 12-3 in RSC play, just half a game behind #14 IU Kokomo in the RSC West. The two teams meet at the Activities Building this Tuesday, with the winner locking up both the division and the No. 1 seed in the upcoming RSC Tournament. Tipoff is scheduled for 7:30 p.m.
"It feels good to win tonight, but it's more important to be sharp at the end of the year," Brown said. "We didn't play our best game tonight. If we play that way against Kokomo, we're gonna get beat by 20. This is an important time of the year because if you don't win, you go home."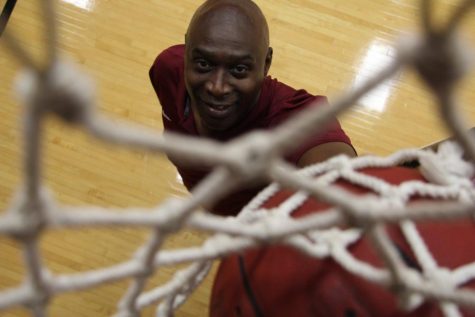 Brown Makes History
Before the contest, Brown was honored after becoming the winningest head coach in Men's Basketball history against Asbury on February 8. He was presented with a commemorative trophy, banner, and basketball by IU Southeast Chancellor Ray Wallace and the man he surpassed, Jim Morris.
Morris was credited with having founded not just the men's basketball program, but also the IUS Athletic department in its entirety. As the third head coach in program history, Morris coached the Grenadiers from 1975 to 1999, finishing with a 278-426 record. Brown, the sixth head coach in program history, is now 281-120 as of Saturday's win.
"There must be some superior coaching going on that I didn't do," Morris said of Brown. "Because it took him a hell of a lot less time to get those wins than I did."
Many Grenadier players and coaches of the past attended the game to honor Brown. One notable alumni that was missing however was the program's all-time leading scorer Jazzmarr Ferguson, who is currently playing with UCC Piacenza, a team in the Serie A2 Italian League. He did not forget his old college coach's accomplishment however, as an audio recording was played during the ceremony to formally congratulate him.