Men's Basketball looks to make deep tournament run in peculiar 2020-21 Season
The Grenadiers will lean on mostly experience in hopes of deep playoff run amid COVID-19, move to NAIA Division I
The IU Southeast Men's Basketball team endured another devastating playoff defeat at the hands of rival IU East in last year's River States Conference Tournament semifinals at the Activities Building. Despite holding a 10 point advantage at halftime, the Red Wolves exploded offensively in the second half to claim a 101-92 victory. The loss marks the second consecutive year the Grenadiers' season ended at the paws of the Red Wolves.
Even though the Grenadiers (21-8, 13-3 RSC) missed the NAIA National Tournament, it made little difference in the face of COVID-19. The virus, which was first declared a pandemic in March, led to the National Tournament and all spring sports being canceled altogether.
"We had a great year last year, but we didn't complete our goals," Head Coach Wiley Brown said. "It's unfortunate either way because if we had won the conference tournament, we wouldn't have been able to play in the national tournament anyway."
Fast forward to October, where the Grenadiers prepare for an interesting 2020-2021 season. Not only will they have to contend with another highly competitive RSC field, but also with both the ongoing threat of COVID-19 and the NAIA division merger that will go into effect starting this season.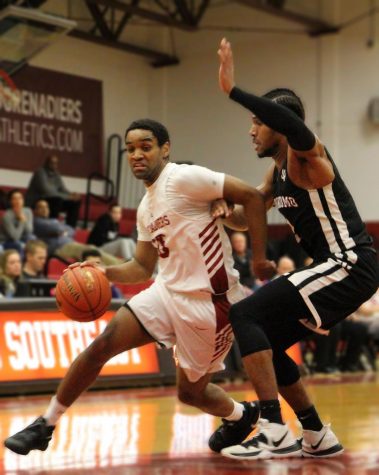 Fortunately for Brown, he returns a majority of last year's roster, spearheaded by senior David Burton. The 6'3 Trinity High School product notched 18 points per game, along with 8.5 rebounds, 86 assists, and 45 steals, all of which led the Grenadiers. His efforts saw him not only a selection to the All-RSC First Team, but he was also named an NAIA All-American Honorable Mention.
"For me, it has been a little different for me once COVID hit," Burton said. "Usually throughout the summer I go to open gyms and workout basically every day, but with COVID, I was not able to do that."
Alongside Burton in the senior class include Jared Osborne, who was a marksman at the free-throw line a year ago. He missed only six of his 46 attempts at the charity stripe, a team-high 87 percent. The Grenadiers will also rely on Tamaje Blackwell, who chipped in 8.5 points and 4.7 rebounds a year ago, to also provide locker room leadership.
"It hasn't been too difficult leading this team so far," Osborne said. "Everybody has been professional and are keeping their eyes on our ultimate goal, which is winning a National Championship.
The Grenadiers' will also field a trio of junior guards in Anthony Wales Jr., Glenn Hill, and Jaivaughn Jackson. Wales averaged 12.6 points per game last season, second only to Burton, on 46.9 percent shooting from the field. Jackson did not suit up for the Grenadiers until the end of December, but provided solid minutes off the bench during the second half of the season, providing averaging 11 points over 15 games.
Hill averaged 12.7 points over three games last year before suffering a season-ending hand injury. Due to the injury occurring early last year, Hill was able to retain an additional year of competition via an NAIA Hardship Waiver.
Lastly, the Grenadiers provide a pair of sophomores guards, including Jocobi Hendricks. As a freshman, Hendricks was a key component of Brown's offense early on, averaging 12.1 points. He was also lethal from beyond the arc, knocking down 41.4 percent of his shots from three-point range. His efforts landed him a spot on the All-RSC Second Team.
Morris Duffy, a 6'1 guard who came to the Grenadiers from Cinncinatti State last year, will likely have an expanded role this season.
Newcomers:
The Grenadiers had few losses aside from the graduation of center Seth Cox last year. Mix in six newcomers to the active roster and you have a deeper Grenadier roster than a year ago.
"We've got a lot of good transfers this year," Osborne said. "We expect all of them to step up for us and play big roles this year."
Leading the group of transfers are a pair of 6'6 forwards in junior Justin Hill (Motlow State C.C.) and sophomore Alex Hancock (Muskingum). Lack of size has been an issue for the Grenadiers in recent years, so expect these two to get playing time early and often.
The Grenadiers also acquired 6'4 sophomore guard Ben Simic, originally from the Louisville area. Simic spent his freshman year at RSC rival IU Kokomo before transferring to IUS to be closer to home.
Rounding out the new blood on the active roster is a trio of redshirt freshmen guards in Jathan Ritter (Bedford North Lawrence), Cameron Simmons (Indiana State), and John Kinnaird Jr. (Thomas More College). Ritter and Simmons came to the Grenadiers last year before choosing to redshirt to extend their eligibility. They also have a size advantage at their positions, measuring at 6'4 and 6'5 respectively, which will help them both in terms of shooting and playing defense.
"Since I first came to IUS, it's been fairly easy fitting in Coach Brown's system," Ritter said. "The system we play consists of playing up-tempo and defensive-minded basketball. We also want to have shooters on the court at all times so we can spread the floor which plays well into my strengths as a player."
We had a great year last year, but we didn't complete our goals. It's unfortunate either way because if we had won the conference tournament, we wouldn't have been able to play in the national tournament anyway – Wiley Brown, Men's Basketball Head Coach
Challenges of a Unique Season
While the new season provides new opportunities, it also presents challenges both old and new. The biggest, and most obvious challenge, is the ongoing threat of COVID-19. As previously reported, both the volleyball and women's basketball teams had issues related to the outbreak, with each program taking a two-week hiatus just weeks prior to their seasons starting. Brown is not confident that the Grenadiers will be able to get through the season without games being canceled due to COVID-19.
"It's very difficult to adhere to CDC guidelines in practice because I coach with a mask on, which makes it hard for the guys to hear me," Brown said. "We try to keep our social distancing when we're shooting and in the locker room, but when you have 14 people with four, five, or six baskets, it's hard, but you got to do the best you can."
Another challenge for the Grenadiers in their hopes of a national title will be the NAIA Tournament itself due to legislation going into effect this season. For the first time since 1991, NAIA Basketball will play under a single division. In terms of scholarships, all NAIA schools are now allowed to hand out up to eight scholarships, allowing more former division II schools to compete with larger institutions to acquire talent.
This does little to help the Grenadiers, who only give out the equivalent of two full scholarships per season, according to Director of Athletics Joe Glover. Instead of full rides, the two scholarships are split between everyone on the roster. This limited athletic aid is the main reason why the IU Southeast Basketball programs are built primarily around local talent.
"It's going to be tough the further out of our conference and into the National Tournament we get," Brown said. "We would be going up against programs with more scholarship money than us and better recruits, but we compete against those types of schools all year."
In terms of direct competition, this will also affect the Grenadiers very little, as they typically load the early portion of their season against former Division I schools such as Campbellsville and Georgetown, as well as the occasional NCAA school such as Bellarmine.
"With every NAIA school transitioning to Division I, that won't be that big of a difference for me," Burton said. "At the beginning of every season that I've been at IUS, we always played schools that were Division I at the time."

For the Grenadiers to even make it to the NAIA National Tournament, they will have to get through another tough RSC slate. Despite a 13-3 record in conference play, as well as winning the RSC West Division, the Grenadiers were picked to finish second in the West, as well as fourth overall in the RSC Coaches' Preseason Poll. Burton and Hendricks were selected to represent the Grenadiers on the 10-man All-RSC Preseason Team.
Topping the preseason poll is IU East, who won the RSC Tournament a year ago, their fourth title in the last six seasons. The Red Wolves have eliminated the Grenadiers from the RSC Tournament for four consecutive seasons, including ending the Grenadiers' season over the last two years. The Grenadiers have also lost seven consecutive contests against the Red Wolves, their last victory coming on Jan. 27, 2017.
"We've had some great matchups with IU East in the past, and their coach, Mark Hester, has done a great job with those young men up there," Brown said. "What was even tougher, those guys got a chance to go to the National Tournament and represent our conference, and couldn't play because of COVID, so I felt bad for them."
West Virginia was picked to finish second after securing the RSC Regular-Season title with a 15-1 record in conference play a year ago. IU Kokomo was picked to finish third after reaching the RSC Tournament title game against the Red Wolves. The Cougars and Grenadiers split their two meetings last year by scores of 62-61 (Won by the Cougars at Kokomo) and 77-67 (Won by the Grenadiers at the Activities Building).
Some darkhorse candidates to make strides in the RSC include Rio Grande, who took the Grenadiers to double overtime before ultimately falling 88-78, as well as Midway, Asbury, Ohio Christian, and Alice Lloyd.
Despite the challenges new and old that lay before them, the Grenadiers are confident that they can make some noise within both the RSC and the new single-division NAIA format should they reach the National Tournament.
"It's going to be a tough road, but it's good to have experienced players coming back," Brown said. "We're looking forward to a great year, but again, we're hoping and praying that COVID won't shut us down."
The Grenadiers kick off their season on Tuesday, October 27, when they travel to the University of the Cumberlands, who are ranked #15 in the NAIA Preseason Top 25. Their first home contest is not until Nov. 10, when they welcome Bethel University. Both matchups tipoff at 7 p.m.
Just as it has been with Volleyball, Men's and Women's Basketball games at the Activities Building will be played before limited attendance. Only two family members per player, preferably parents, will be allowed to attend, as well as media with permission given in advance. Full Spectator Policy is available here: http://www.iusathletics.com/article/2333