Declining mental health, increased stress due to the COVID-19 pandemic continues to impact local college students
The COVID-19 pandemic has caused multiple students to struggle with maintaining their typical mental health and stress levels
When IU Southeast extended its 2020 spring break, students thought they would only be gone from campus for a short time. 
"We all thought it was going to be just two weeks," said Whitney Brunson, a sophomore majoring in sociology at IUS.
However, as anxiety and depression rates both increased during the COVID-19 pandemic, the mental health of IUS students began to decline after the extended spring break.
As students turned to a virtual class setting, school began to feel optional. The lack of a rigid schedule and also not being able to see friends on campus to do homework with meant that they had to start creating their own schedules to accomplish classwork.
Kaylee Mayfield, a junior majoring in English at IUS, found new ways to connect with friends from a distance. They have kept in touch by using social media, talking regularly and playing games over video chat.
While Mayfield believes the pandemic gave her a blessing by spending more time with family, she also began to fall into a mental rut. Before the COVID-19 pandemic, Mayfield was able to keep her stress under control.
"I knew my patterns to stop myself from stressing out," she said. 
Mayfield now has to work harder to find ways to manage stress, using methods such as listening to music and getting enough sleep.
Brunson also realized she was becoming stressed and then deeply felt the need to be with her community of people.
"I realized not to waste any moment I spend with people," she said.
Finances also began to throw college students under the bus. The distance fees included for online courses were looming over their heads, pulling them deeper into higher tuition rates, debt and student loans.
Many students work to pay for their own education. A lot of people lost their jobs last year due to the pandemic. How can they pay for the extra amount of distance fees?
Mayfield pays for half of her college expenses and her parents pay the other half. For two months during lockdown, Mayfield was out of work.
"I didn't have any income whatsoever," she said.
Mayfield's parents live in Ohio and she was able to stay with them during the lockdown. She also had a savings fund built up, so she was able to make it through. 
Karen Ritchie, a counselor and care manager with the Counseling and Psychological Services on campus, expressed how the pandemic has affected college students at IUS.
"The mental health of our students and our entire country has been tremendously impacted by COVID-19," she said.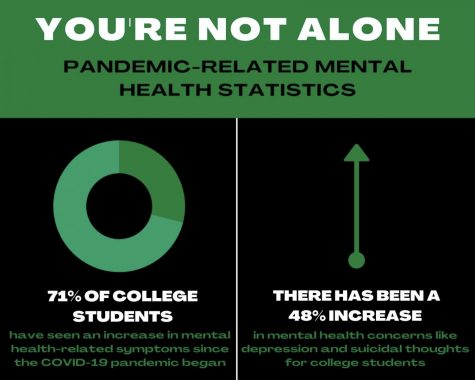 There are several studies about COVID-19 in relation to mental health. Richie explained that some of them report a 48% increase in mental health concerns such as depression and suicidal thoughts and 71% of college students have seen an increase in those symptoms.
There is an overwhelming sense of the unknown that is causing a lot of anxiety among college students. All of the "normal" activities that they know and love have either been postponed or cancelled.
"While we are all experiencing the same pandemic, we are not experiencing it the same way," Ritchie said.
Richie gave some examples for students to combat the unknown, including establishing a routine, limiting time watching the news and maintaining a social support system.
IUS offers free telehealth visits through Zoom Health. Richie encourages students to reach out to anyone for help when needed, whether that be a close friend or a counselor.