Two IUS Students could be writing the next local hit
Two music students at Indiana University Southeast are attempting to write, record and publish songs on Spotify and Apple Music by themselves from the comfort of their living room.
Sam Purswell, a sophomore majoring in audio production and music business, is working with Matt Neville, a former IUS student, to make a living out of their passion for music.
Meeting each other through the music department, the two clicked when they both wanted to create music as a career.
"My hope is that I can monetize this and support a family," Purswell said. "But that's what everyone says, so we will see if there is any room for me in this incredibly saturated business."
With the release of their new single, "Favorite Things," an emotional ballad about love, family and contentment, Purswell and Neville see themselves as pioneers, wanting to show other IUS students interested in music production what's possible.
"We clicked pretty quickly and we went for some funk, jazz fusion," Purswell said. "When COVID happened, things started falling apart a little bit. At some point, Matt talked to me and said let's record and I told him I had an album we can record."
Since the two lived in different cities, Neville in Indianapolis and Purswell in Crestwood, Kentucky, the recordings started through voice memos to each other in January. Early spring of this year is when the duo started making real progress.
"I think it was probably around March when we started officially recording," Neville said. "At that point it was really slow and we only did it every few weeks in small increments, we were just trying to figure out how our workflow was going to work."
For some going to school, having a full-time job and recording music would be too much for them. The duo had their share of hardships on this project.
"We have had recording sessions that aren't fun and that's just part of it," Purswell said. "That's something I want people to know if they get into music, it's a fun hobby. But when you start going professional, it's going to kill you."
Neville agreed.
"I work a full-time job and a part-time job on top of this too," Neville said. "It is very hard to be able to balance this stuff, but it's all worth it when you finally hit the submit button on a distribution website and finally see it on Apple Music and Spotify."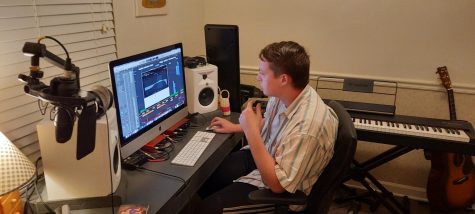 Their song "Favorite Things," by Taylor Purswell, which is Sam's stage name, is streaming on Spotify and Apple Music as of Aug. 2. The message of the song is close to Purswell's heart. 
"It's about the value of loving what you're surrounded with and the beautiful consequence of finding exploration uninteresting," Purswell said.
If you want to see Purswell and Neville perform, they will be at the music business show on Nov. 22 with a full band. More details on this upcoming event will be announced at a later date.