Ready for it? IUS Students Curious about Taylor Swift Course
Love her?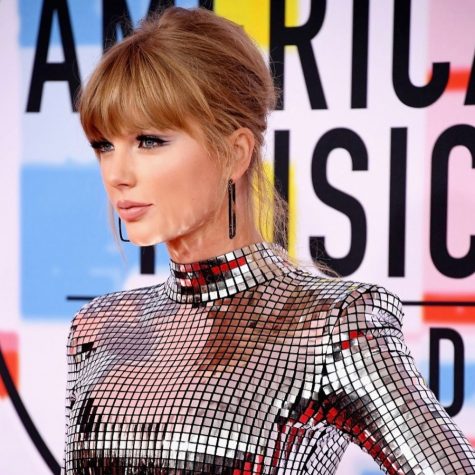 Hate her? 
Everyone knows who Taylor Swift is. 
The internet has countless ways to satisfy your inner Swiftie. Want to buy the singer-songwriter's newest merch? Or see the latest salvo in her feud with Kanye? 
Now, you can become an Instagram follower to a University of Texas at Austin professor who's teaching a literature course about the music of Swift, an 11-time Grammy award winner whose mere name turns heads and evokes clicks. 
Wait.  
A college class? Are you kidding? 
Dr. Elizabeth Scala, the Ellen Clayton Garwood Centennial Professor of English at the University of Texas at Austin, launched the course, "The Taylor Swift Songbook," this fall semester. Her Instagram handle @swiftieprof has 1,000-plus followers so far.  
Scala's posts feature discussion highlights from in-person classes along with teasers about potential options for online learning in the future.     
Her students are examining Swift's songs alongside a traditional canon of Western literature:  William Shakespeare, John Keats and Robert Frost. Students are analyzing and contextualizing common practices and problems across the centuries, according to a UT-Austin news release. They are also studying gender, authenticity and the authorship of a writer's texts, along with ways that readers and fans impact artistic work. 
In the news release, Scala said she is bringing into her classroom "what Swift fans can already do at a sophisticated level." 
The professor said she would show students how Swift "draws on richer literary traditions in her songwriting, both topically but also formally in terms of how she uses references, metaphors and clever manipulations of words."  
If IUS offers a similar course, would Swifties here take it? 
In a survey, more than 70% said they would consider taking it as an elective. 
A few students answered to the tune of "Shake it Off," but others wanted to tell a Swift-centric course, "You Belong With Me."  
"Taylor is an icon," Katie LaHue said. "We all know it would be a fun way of learning." 
Student Keziah Jones called Swift "a gifted businesswoman, tailoring her songs—no pun intended!–to meet her audience's demands and evolving interests. Music majors especially could benefit from taking a course studying her songwriting techniques." 
But others pooh-poohed such a class–as if it was "Bad Blood." 
"There are no courses on far more influential artists," said Hayden Mays.  
So is UT-Austin Professor Scala overestimating the merits of Swift? 
What other value exists in examining the 32-year-old megawatt star through an academic lens?  
"In their time, Shakespeare, Dylan Thomas and Tennessee Williams were all immersed in and influencing the popular culture of their time," said Jim Hesselman, dean of the School of Arts and Letters. "So asking if there is value in studying either the lyrics, or the performance style, or the general influence of Taylor Swift can mean many things. The value comes in the action of studying itself." 
Dr. Jeremy Wells, associate professor of English, called himself a fan of Swift—but not quite a Swiftie. He compared her mass appeal to that of Shakespeare centuries ago. 
"During his day, Shakespeare was England's most ambitious and artful playwright," Wells said. "We can therefore take plays like Macbeth and think about them in terms of audience expectations in the early 1600s. We can also take a song like Swift's "Love Story" and appreciate its artistry." 
But he recalled a conversation with students—long before the UT-Austin course materialized—in which he praised Swift's skills. But some students still considered her "a shallow pop star." 
Meanwhile, Hesselman cautioned against shorthand such as the "pop" in pop culture versus "popular" culture.  
"Abbreviating the term into 'pop' is already a way of intimating that this thing you are going to examine or study is lesser, fun, light, not serious and strictly a surface endeavor. Let's admit, sometimes it does mean that. But because something is popular at any particular time in history simply implies that the general population is aware of it and engaged in it." 
Wells, whose interview was separate from that of Hesselman, didn't hesitate to say "pop culture," however. 
"For many of us, pop culture is more enjoyable when you think deeply about it," Wells said. "It can be something like Taylor Swift's career—how she managed the transition from country to pop (and) how it compares to the careers of other women who have grown up in the public's eye." 
UT-Austin isn't alone in its academic dive into the works, the brand and the legacy of Swift. 
This past spring semester, New York University offered "Topics in Recorded Music: Taylor Swift."    
NYU's catalog description read, "This course proposes to deconstruct both the appeal and aversions to Taylor Swift through close readings of her music and public discourse as it relates to her own growth as an artist and a celebrity." 
She is far from the first songstress to draw interest from professors who encourage students to explore issues beyond videos, likes and tweets. The University of South Carolina, for example, has offered a sociology course focused on Lady Gaga. And UT-Austin has had a course on feminism in which students examine the works of Beyoncé and Rihanna.  
There's a benefit to academic analysis of popular culture, which fuels the sprouting of such courses in which fanfiction can be balanced with facts. 
Is IUS the next institution to offer a Swiftian course?  
Plenty of signs point to students here as ready for it.