Back to School with Free Parking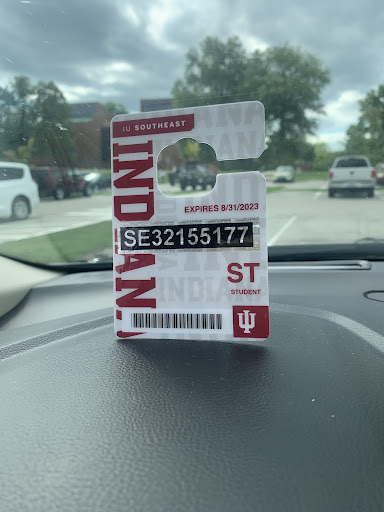 Free parking and free carpool, all for students!?  
IU Southeast's Fall 2022 semester started with a huge victory for students when Interim Chancellor Kelly Ryan announced that student parking permits are free throughout the academic year.  
"We are making this decision to suspend the parking fee to help you at a time when gas prices remain high and record inflation made worse by the pandemic is causing hardships for everyone's household budgets." said Ryan in her email announcing the decision. "Indiana University is committed to lowering financial hurdles for students, and this is one small way we can help." 
The move to free student parking coincided with a free rideshare service for students and others throughout the IU system.  
Previously at IUS, students had to pay $99.40 for an annual permit or $47 per semester. Students with motorcycles had to pay $20 annually or $10 per semester. Students overwhelmingly praised the free parking decision. In a survey conducted by the Student Government Association (SGA), one of the four most important issues facing college students was the cost of parking at IUS. 
"I am happy." said Canaan Clark, an accounting senior. "I feel like it takes a financial burden off of a lot of students and gives a better public outlook on the university for taking this measure." 
 Dannon Olsen, President of the SGA, added that "In the three years I've been involved with the organization, I've never seen this much positivity and excitement towards an administrative decision. The parking decision helped build community and excitement among the students. Although administration shared some uneasiness at first regarding the free parking decision, they have become more upfront when working with students." 
Olsen is a huge supporter of the free parking decision, saying that it is a "major step towards administration working with students" and how "administration really stepped up for students." 
Students aren't the only ones who are glad about the news. Faculty have also been very supportive of the free parking for students. Faculty have also received a discount for their parking passes this school year. In previous semesters, part-time faculty who might teach only one course have paid $130.40 per year or $62.20 per semester. That has been slashed in half to $65.20 per year or $31.10 per semester. 
As for full-time employees, the permit prices have dropped to $56.90 per semester. Depending on the salaries for full-time employees, the annual prices have been reduced to $62.00 for those who earn less than $35,000 to $139.70 for those earning over $100,000.  
 "I think it's a great thing. It's a win for everyone. Students get free parking for this year, and employees get half-priced parking." said Dr. Joe Wert, Professor of Political Science and President of Faculty Senate. "It's just a one-year thing, but I think this is good news that comes at the right time." 
Despite the happiness among students and employees, the free parking decision seems to have had some history behind it. A year ago, there was a proposal from the SGA that wanted to eliminate distinctions in the parking lot so students could park wherever they wanted. Wert said, "Faculty and staff both were opposed to the proposal for a variety of reasons." Because of this, the proposal reached a stalemate. 
However, with the help of Vice Chancellors Amanda Stonecipher and Dana Wavle, Olsen and the SGA were able to work closely with Ryan and help offer the students free parking for the 22-23 year. So far, the free parking has only been issued for the 22-23 school year. It is unknown whether free parking will continue past May. Despite the uncertainty, free parking for the academic year can be seen as a major victory for the students at IUS and hopefully can pave a way for students and administration to work together again.  
Free parking passes aren't the only update to transportation. IU introduced the Hoosier Rideboard this past summer. Hoosier Rideboard is a new service available exclusively to IU students, faculty and staff search for carpool partners to go to work, classes, concerts, sporting events, other IU campuses and other cities. Trips can be either one-time carpool trips or daily commutes depending on what every person needs to cut costs of gas, tolls and vehicle maintenance.  
"The Hoosier Rideboard was developed by the transportation department in order to provide more environmental needs of transportation," said the Office of Parking Operations in a statement released over the summer. "Amid recent rising fuel costs and costs of living increases, the Rideboard should help anyone associated with campus realize cost savings."  
Christine Thompson of IUS Parking Operations added that there were already 27 registrations within the Rideboard system. At Horizon press time, however, no one had booked a ride yet. 
For Rideboard information, check out https://transportation.indiana.edu/rideshare/hoosier-rideboard/index.html