An Artificial Threat and a Real Opportunity
As Artificial Intelligence (AI) continues to infiltrate various industries, one area that may be greatly impacted is the realm of creative art. From digital art to writing and music composition, AI has the potential to revolutionize the way we create and consume art. However, as we embrace the advancements in technology, it is important to consider the potential consequences and ethical implications of AI's integration into the art world. 
Now, would you believe me if I said the entire paragraph above was generated by the AI assistant Chat GPT by OpenAI?  
All I did was prompt the AI chatbot with: "Write a lead to a news opinion piece about artificial intelligence interrupting creative art." Its response came in just seconds. There were some redundancies, but it was otherwise solid. All in all, AI technologies have been advancing quite rapidly in the past few years but remain a niche. Tools like Chat GPT may just bring AI into the mainstream by opening a Pandora's Box of new efficiency and innovation.  
Yet Chat GPT isn't the only recent breakthrough tool. Image generators like DALL·E 2 have made strides in creating images using stable diffusion – a deep learning, text-to-image model. Some results from these newer AI tools have been convincing enough to cause concern among educators, artists, writers, and more. Many believe that these new tools will enable cheating in schools and circumventing copyrights – and they very well could. 
On the education side, easily accessible AI models like Chat GPT have the potential to redefine writing in academia, with The Atlantic running an article titled, "The College Essay Is Dead," and Forbes running a play-by-play of the chatbot churning out two college application essays in 20 minutes. There is notable unease regarding student misuse of AI, but I don't think banning it will work. Nor is it the right course of action. Ultimately, I think AI is a tool that makes our lives easier. In my testing of Chat GPT, I found it incredibly useful for brainstorming and collecting general information. Perhaps this is an opportunity for educators to shift writing assignments to in-person for monitoring purposes or to fundamentally alter the structure of the way we learn. Either way, AI is here to stay. 
In the world of art, things are equally ambiguous. Simply put, the way many of these computer-generated art apps work is by collecting references from a database or the internet that it then uses to produce new images. The images fed to these algorithms are often blatantly from stock image sites and other public websites. Essentially, the AI analyzes these images and "steals" the style and structure. At times, this even results in the creations having muddied watermarks. Obviously, this is an oversight. While current generations by AI art algorithms usually require editing, the technology will continue to grow more sophisticated. This raises questions regarding the ethics of an AI utilizing online images and sometimes other people's work to create something new. Would these generations even be "new" at all? 
While not to the same extent, the same ethical question above can apply to AI language models too because they are fed huge amounts of text from various sources and databases. Not to mention, in both use cases – as is with most AI – there is the potential to displace human workers. In other words, AI could disrupt entire livelihoods and minimize years of training or education.  
The advancement of AI is ethically tricky, but an inevitable problem. The blending of AI into the world of creative art and writing has the ability to bring new and exhilarating possibilities. Not to mention, AI will impact other fields as well. Nevertheless, we must ensure that the use of AI does not diminish the value of human expression. As AI continues to evolve, it's crucial to stimulate a constructive public discourse to establish guidelines and regulations to ensure the ethical use of AI in not only creative endeavors, but every facet of our society.  
When AI comes running, can we keep up? 
About the Contributor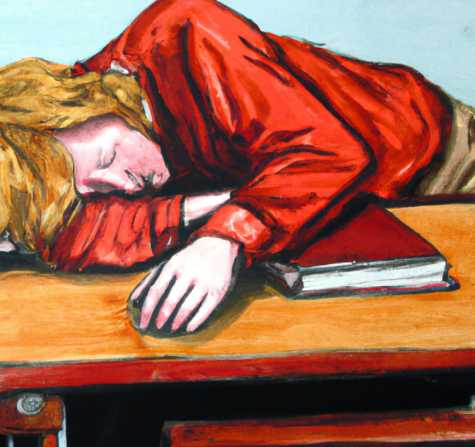 Tyler Eversole, Staff Editor, etc.