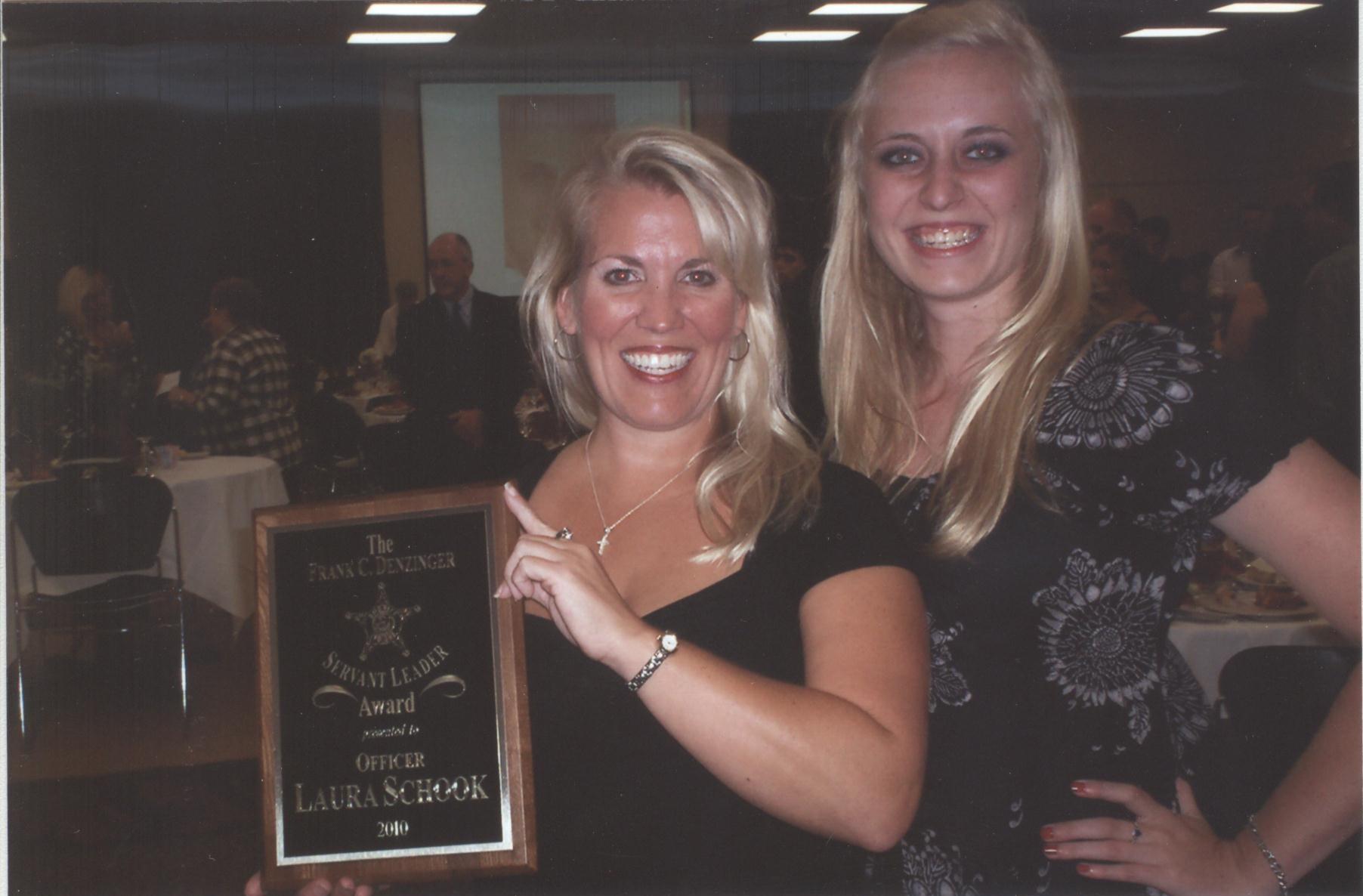 After winning the Frank Denzinger Scholarship, Laura Schook, criminal justice freshman, was able to complete her life-long dream of going back to college after serving 15 years as a police officer.
"I want to be a forensic interviewer," Schook said. "You gather and collect information from children during cases and present it to the court."
Schook said she realized her passion for working on children's cases because her recent police assignments have dealt with them.
"I saw a forensic interview one time, and it was like watching something magical happen," Schook said. "The way they talk to those children, I realized this is what I am going to do."
The Frank Denzinger Scholarship started in 2008 to honor the memory of fallen officer, Frank Denzinger. The scholarship  awards $1,500 a semester to a student who wants to pursue a career in criminal justice, has had two years experience in law enforcement and is currently serving as a full-time officer in Clark, Floyd or Harrison counties.
Schook is now completing her 15th year as a night-shift police officer.
This is the second time Schook has been a freshman at IU Southeast.
However, 15 years ago, during her first semester, the New Albany Police Department decided to hire her, so she put school on hold to go work.
Schook said she has always had a passion for law enforcement ever since she was a young child.
"I just had tunnel vision," Schook said. "I always wanted to be a police officer. It was the only thing I wanted to do."
Mike Schook, Laura Schook's uncle, has been a police officer since 1976, and he said ever since she was a child, Laura has been interested in being a police officer.
"She was always infatuated with it," Mike Schook said. "While she was growing up, she would go on ride-along programs to get a feel for the work."
Mike Schook said Laura always wanted to learn more about law enforcement.
"She never left any questions unasked," Mike Schook said.
He said he knew what a major accomplishment it was for their family that Schook received the Frank Denzinger Scholarship.
"It was an honor for her to get the scholarship and better her education," Mike Schook said. "I think that it is fantastic that she is taking classes and trying to gain more tools that she can use out on the street."
He said Schook has always been the type of person who wants to further her knowledge to help people out.
"She always wants to take that extra step to help the community and show compassion," Mike Schook said.
Mike Schook said he believes she will do well in her venture because of her passion to help other people out in programs like Shop With a Cop.
Schook has participated in the Shop With a Cop program, which gives police officers the opportunity to take underprivileged children. Officers take children from infancy to 12 years of age shopping and out to eat during the holiday season.
Schook has participated in the program with her daughter, Morgan Feeler, undecided freshman, ever since the program started.
She said she and her daughter have a close relationship, and they do many things together, including going back to school at the same time.
"She is my support system," Schook said. "Whenever I freak out about something, I call her."
Feeler said their classes are during the same times, so they sometimes spend their downtime on campus together.
"We come to school way early and have a coffee and play around on the computer," Feeler said.
Feeler said now since her and her mother are both back in school, their relationship has grown even stronger.
"I teach her stuff, and she teaches me stuff," Feeler said.
Schook's sister, Jennifer Fell, journalism senior, will be graduating from IU Southeast next year and the first one from their family to receive a degree.
Schook said she is hoping she and her daughter will be the next to follow in those footsteps and receive their degrees.
Feeler said she is happy her mom is able to pursue her dream of going back to school.
"I am really proud of her," Feeler said.
Schook said the support of her family and boyfriend, Josh Pearlman, a fellow police officer, is important to her succeeding in school since she is a little apprehensive about being back.
"I am really nervous, and sometimes it is overwhelming being back, but everybody is very supportive," Schook said.
By MORIAH
WHITTAKER
Staff
whittakm@ius.edu