Children collect bugs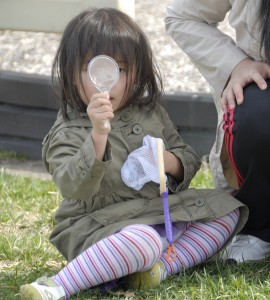 In the 5th annual Bugs, Bubbles and Bulbs event at the Children's Center on March 19, students and their families took a break from studies and enjoyed a relaxed day of learning and play.
Wanda Gregory, coordinator for the Children's Center, said the event was important to the children.
"The goal of the event was to educate kids about the changing of seasons, plant cycles and insects," Gregory said.
The event was co-sponsored with the Adult Student Center and open to all children of student-parents.
After a quick introduction by Gregory, the children were given glass jars, construction paper, crayons, colored markers and, of course, Elmer's Glue. They quickly went to work crafting bug jars to catch and inspect insects around the Children's Center grounds.
They were also given flower bulbs to plant in cardboard pots of soil.
A red, plastic tub of bubble water in the center of the room was filled with bubble-making tools of all shapes and sizes. Some of the children scurried back and forth, blowing bubbles across the room, while others sat with their parents at the tiny tables and worked on their crafts.
When the children finished or just decided to stop, there were cupcakes and juice available.
After they got their fill of sugary refreshments, it was time for the bug hunt.
The children went out to the playground several at a time and worked off the sugar energy. Some explored the fence line for creepy crawlers while others just enjoyed the sunshine and climbed around the playground.
The cool weather kept the bug count low, but the children didn't seem to mind. They were content to run, talk, smile, play, climb, slide and enjoy the day.
The Children's Center's next event will be Operation Hippity Hop on April 16 from 2 to 4 p.m.
By SAM WEBER
Staff
samweber@ius.edu