Grenadiers demolish Eagles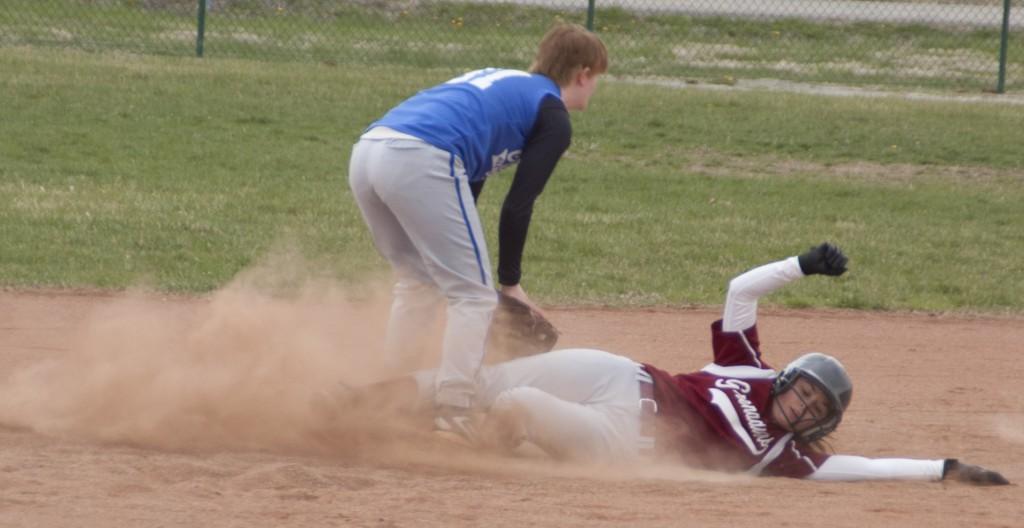 The IUS softball team put up 48 runs in two games against Alice Lloyd College by beating the Eagles, 23-0, in the first game and 25-0 in the second.
The Grenadiers may have scored 48 runs, but head coach Todd Buckingham said he was most pleased with the way his pitchers performed.
"The thing that makes me happiest was our pitching performance," Buckingham said. "We really hit our spots well.  We gave up one hit on the day.
"Our last girl pitched a no-hitter," Buckingham said. "It was one error away from being a perfect game in the last inning, which is a heartbreaker."
Both IUS pitchers threw complete games.  Jenna Swain, freshman pitcher, threw five innings, giving up just one hit and striking out eight batters in the first game  of the doubleheader.
Bethany Sullivan, freshman pitcher, threw five innings of no-hit softball, struck out eight batters and was an error away in the final inning from a perfect game.
The Grenadier batters had little problem with Alice Lloyd's pitching.
IU Southeast hit six home runs for the day, two of which were in the park and had a total of 26 extra base hits at the end of two ballgames.
Alice Lloyd College head coach John Mills called the doubleheader a learning experience.
"Well, it's a learning experience for our program," Mills said. "This is my first year, so we really didn't get to do a lot of recruiting and things of that nature."
Mills also spoke highly of the Grenadiers and called them the best team the Eagles have played all season.
"Southeast is tough," Mills said. "We knew they were tough, and we wanted to make them earn the runs. We gave up quite a few unearned runs, but they really played well. They're the best team we've played all year."
Buckingham had only good things to say about his team's hitting performance and gave extra praise to how they adjusted to slower pitching.
"It's hard to really find negative things to say about a doubleheader you win 23-0 and 25-0," Buckingham said. "I'm pleased with the way we came out and hit.  It's difficult to change your timing to a slower speed, and we were able to do that."
Nicole Mills, junior shortstop, was one of the top-hitters for the Grenadiers.
Mills was 6-of-8 from the plate with seven runs batted in, two homeruns, three doubles, a stolen base and five runs scored.
The doubleheader victories improved the Grenadiers' record back to .500 on the season at 16-16 and moved IU Southeast to 3-1 in the Kentucky Intercollegiate Athletic Conference.
The Grenadiers' next doubleheader is scheduled to be on April 11 at 2 p.m. against Asbury University.
The Grenadiers split a doubleheader with Asbury back on March 30.
By BRENT KULWICKI
Staff
bkulwick@ius.edu