Alumni face-off students
IUS Horizon
August 28, 2011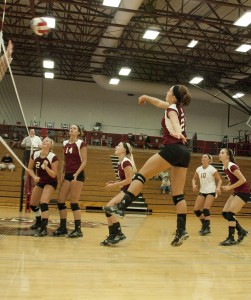 The Grenadiers started their season off with an alumni match that was held in the Activities Building on August 13.
This match consisted of IUS alumni, including Katie Tinsley, assistant volleyball coach, matching up against the current volleyball team.
"This is an event that we try to do every year," Joe Glover, athletic director,  said, "the volleyball match-up always has a great turn out."
In addition to this alumni game, the Athletic Department attempts to schedule them with all of the teams.
"This is a great way to get the community and students involved with the university and the upcoming athletic season," Glover said.
The alumni match-up was a preview of the athletes for the upcoming season.
The Athletic Department and the Lady Grenadiers have high expectations for the new season.
By JOLIE STONE
Sports Editor
stonejl@umail.iu.edu