New addition arrives in athletics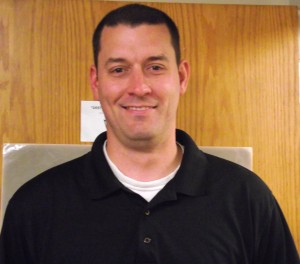 A new addition to the IUS campus has been made in the Athletics Department.
Standing at 6 feet 8 inches tall, Denny Williams was named the new assistant athletic director for facilities and operations. However, he has been the interim for the position since August 2010.
"Denny's been a great addition," Joe Glover, athletic director, said. "He understands our mission."
Under his new job title, Williams is in charge of everything inside the Activities Building, the Koetter Sports Complex and the tennis courts.
He is also in charge of game operations, making sure the student workers are on time, paying the officials and making sure games run as smooth as possible.
"He's done a great job," Amanda Dailey-Weaver, administrative assistant and graduate of IU Southeast, said.
Williams graduated from the University of Louisville in 2001 with a bachelor's degree in sports administration and a minor in marketing.
This year, he also earned his master's degree in sports management from the United States Sports Academy.
Williams also played baseball for the University of Louisville, where he set records as a starting pitcher in 2001.
He set the yearly record for most complete games, most starts, most wins and ERA, as well as being on the Athletic Director's Honor Roll.
Williams had previously played baseball and basketball for Ballard High School in Louisville.
"I can connect with student athletes because I've been there before," Williams said.
After his baseball career at the University of Louisville, Williams moved on to work for the Louisville Bats ticket sales office and was also a suite manager for a short time.
He has also worked in many different sales jobs, such as pharmaceuticals.
"I've been everywhere," Williams said.
Williams moved from sales jobs to construction and worked for an asphalt company based in Shelbyville. After, he took his current position at IU Southeast.
Williams said more than anything he enjoys connecting with the players.
While his job doesn't require him to encounter the student athletes on a regular basis, he still chooses to do so.
"I think being a college athlete helped out in this role more than [anything]," Williams said.
Dailey-Weaver and Glover said having Williams in this role has been very useful.
"[It takes] special folks who can do that position and be hands on with the student athletes," Glover said.
Williams said he is excited to see student athletes walking away with their degree, which is what their goal as a student athlete should be.
"I think the biggest thrill so far is getting to know the student athletes," Williams said.
By JOSH WILSON
Staff
wilsjosh@imail.iu.edu