New campaign promotes student athletes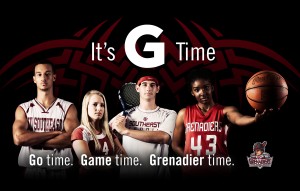 The Athletics Department has come up with a new visibility campaign — "G Time."
The "G Time" advertising campaign was created by Joe Glover, athletics director, who developed it along with the Marketing and Communications Department to bring awareness to the athletic programs.
"I always felt defeated whenever I heard a student say that they didn't know we had athletics on campus," Glover said. "I felt that something had to be done. We have to improve our visibility here on campus."
The target is to reach the customer, with future plans to reach out beyond the campus and into the community.
"It is really hard to get people on the outside excited about your programs if you can't get everyone inside excited," Glover said. "You start inside with your core and get people excited, and then they hopefully will tell others and so on, and then you build out from there."
The idea started about a year and a half ago. After several brainstorming sessions and researching of other departments and universities, Glover and his team concluded that they wanted to showcase the athletes.
"That was important to us because some of these athletes may sit next to you in class, but you may not have ever realized it, but you will after seeing them in this campaign," Glover said.
This campaign will be released within the next year in two phases.
Phase 1 will be mainly limited to the Activities Building, with front window designs that will be visible as you enter the building, and a large banner featuring pictures of athletes — who play in the different sports — spread across the entire back wall of the gym.
Other facets of Phase 1 will include "G Time" T-shirts and the website will have Facebook and Twitter integrated onto it. E-mail signature blocks will also be incorporated with the "G Time" slogan and graphics.
Glover said he hopes the campaign will not only remind students who have gone to sporting events in the past of the fun that can be had while showing their school pride, but also to build an exciting spirit among the new and present students.
Maya Jannace, political science senior, said she had no clue there was even a sports program on campus.
"I live in Louisville, so when I come to campus I pretty much focus on my major," Jannace said. "I think [IU Southeast] should do more to get commuting students involved and aware of their programs, because most of us are not."
Phase 2 will begin sometime next year, with the spreading of the window designs and wall banners throughout the academic buildings.
Stephanie Mutter, nursing junior, said she is aware of the athletics on campus and has attended some sporting events in the past.
"Seeing the advertising for the athletic programs around campus would not draw me in," Mutter said. "I pick up on the word of mouth about sporting events through friends or others and that's what draws my in attention more."
Chris Smiley, accounting sophomore, said he has seen the new advertisements on T-shirts around campus.
"The first thing I thought when I saw the advertisement, the 'G' in 'G Time' made me think of Gatorade, but I am a fan of the ad," Smiley said. "I would be more inclined to go to the events because of seeing the ads. The more they are in my face, the more I would be inclined to go."
Glover said this type of campaign is very smart because they are not throwing a lot of dollars out to risk getting little in return.
"That's what makes this campaign so great," Glover said. "We didn't have to hire a graphic artist or designer."
The risks of the campaign will come at a low cost because all of the work was done through the current staff, with the only expense going toward the materials, which  totaled less than $5,000.
By STEVE NICHOLS
Staff
stevnich@umail.iu.edu