LaDuke serves in favor for KIAC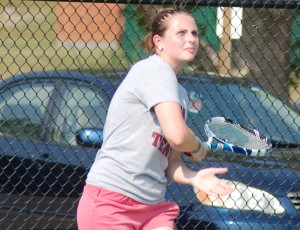 Emma LaDuke, history senior, plays on the IUS women's tennis team.
However, LaDuke said playing for the team might not have  happened if it was not for  her best friend Kelsey Wisman, history senior.
"When Kelsey was being scouted by IUS back in high school, I inquired about playing for them myself since that was where I was going to school," LaDuke said. "Within a week, they were giving me the chance, and I was signing to play."
Wisman said she feels lucky to be playing with LaDuke because she is such a great friend to have.
"She is a kind of  friend that I can always rely on," Wisman said. "At tournaments, we always try to watch and support each other if we can. She's always there cheering for me from the sides if she is not playing in a match herself."
In high school, Wisman said the two were practically inseparable.
"On our away tennis trips we would sit on the bus together and take goofy pictures – laughing at ourselves the entire trip to pass the time," Wisman said. "We still are very silly. We feed off each other's goofiness."
Carri Parris, LaDuke's mother, said her silliness became the butt of a very long running joke at home.
"When Emma was in the seventh grade, she announced to the entire family that tennis star Andy Roddick was going to marry her," Parris said. "When she turns 20 years old, he would only be 27 years old and it wouldn't be that bad, so he was going to wait for her and marry her."
The announcement of her future engagement became the joke of the house that lasted until 2009 when Roddick married swimsuit model Brooklyn Decker.
Parris said after reading about his marriage in a celebrity magazine she rushed home to break the news to her daughter.
"Roddick didn't wait," Parris said.  "Emma wasn't too terribly devastated because she responded with 'yeah, what's up with that?'"
Parris said LaDuke also has a serious side if it pertains anything to her life, school or family.
"She is very passionate about her life and is always focused on what she wants," Parris said.
In middle school LaDuke's tennis skills progressed while playing for Floyd Central Middle School.
She received an award for most improved player in the seventh grade, and she became the No. 1 player during eighth grade.
While at Floyd Central High School, she joined the varsity as a freshman, and she continued to play all four years.
During her junior and senior years of high school, LaDuke and her partner won awards for being unbeatable doubles players and went on to represent their school at the state championship for her senior year.
"We unfortunately lost in the first round, but we considered it an honor to participate," LaDuke said.
However, at IU Southeast, LaDuke has contributed to the team's three consecutive undefeated KIAC conference seasons.
The tennis team was recently picked first in the KIAC poll.
By STEVE NICHOLS
Staff
stevnich@ius.edu