Enrollment numbers increase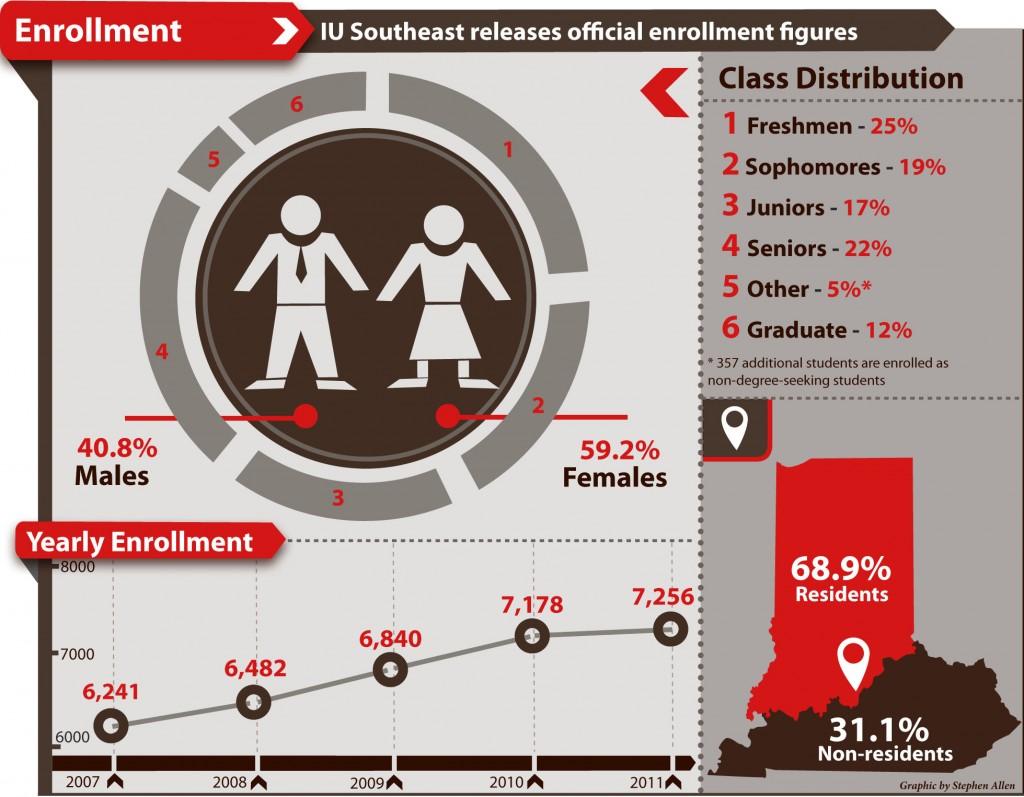 IU Southeast's enrollment numbers for this fall semester were released for this semester on Sept. 3. Overall, enrollment was up 1.1 percent in comparison to last year.
"We have 7,256 students taking 73,840 credit hours," Anne Skuce, director of Admissions and assistant vice chancellor for enrollment management, said.  "Of our total student population, 67 percent are full-time."
According to the official campus enrollment summary report, there is a 6.6 percent increase in the head count total for this year compared to fall 2010 and a 5.8 percent increase in the total number of credit hours students are enrolled in.
In total, there are 6,423 undergraduates — a 0.5 percent decrease from last year — and 844 graduate students.
In comparison to last year, the number of freshman enrolled decreased 6.7 percent. However, the enrollment total for seniors increased by 7.8 percent.
"A few years ago, we brought in a record number of new freshmen," Skuce said.  "Those students work their way through the academic years, creating an increase in enrollment each year they persist. So, a record freshmen class of 2007 would equate to a larger number of seniors, presuming the students are on track and taking a full load of classes each semester."
While the number of in-state resident students went up 1.7 percent, the number of non-residents decreased 0.2 percent. However, Skuce said the enrollment numbers will vary throughout the semester.
"Enrollment numbers change through the first class and beyond," Skuce said.  "While students can add courses to their schedule through the first week of the semester, they have several weeks beyond the first week to drop classes."
Each year, an enrollment goal is set by IU Southeast.
"It is critical that our estimated enrollment is accurate because much of the budget for the following fiscal year is based on enrollment," Skuce said.
However, goals for enrollment are not being set this year, and possibly next year, as well.
"Our focus is on admitting strong academic students who will persist to graduation," Skuce said. "Until we get approval for a new academic building on campus, we have space limitations that will impact our enrollment goals."
By JENNIFER HARRINGTON
Staff
jeharrin@umail.iu.edu