Dance team hopefuls take the final step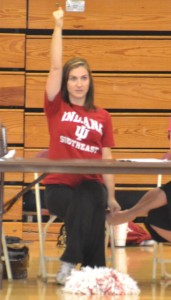 Two open tryouts were recently held in the Activities Building for the IUS dance team, ending with nine women making the final cut and becoming the newest members of the team.
The dance team will have a whole new look and feel this fall when they begin appearing at events. Their first appearance will be the first game for the IUS men's basketball team on Nov. 4.
Elizabeth Wooden and Alicia Corcoran-Scott, IUS co-head coaches, said they intend on bringing an exciting and competitive dance team to a program that has been dwindling over the past several years.
"We have the girls sign contracts to enforce their commitment to the team so they will take pride," Corcoran-Scott said. "If the girls aren't happy, they won't stay with the team, so we intend on keeping everything fresh and new — keeping the girls excited."
Wooden and Corcoran-Scott took over the dance team in late June after the last coach announced that she wouldn't be returning.
"Last year's coach was the mother of one of the girls on the team," Wooden said. "After she graduated, I don't think that it was something that she wanted to continue."
Within two weeks of taking over the team, Wooden and Corcoran-Scott held their first open auditions.
In the first auditions, a total of six women tried out, four of them making the team.  The second auditions were held last week and brought out eight women, — five more made the team.
Out of the nine women who made the team, three are returning members from last year.
Alexis Alexander, fine arts freshman, said she had some previous dance experience, but it was three years ago with dance studios in Louisville.
She said she was thrilled after hearing the news that she had become one of the new members of the team during the second auditions.
"It feels great," Alexander said. "I was pretty nervous, but it was a good nervous. I was excited."
Lindsey Black, nursing freshman and new team captain, said she was really happy to have made the team once again.
"This is my third year on the dance team," Black said. "I was real excited, but it was nerve-racking because with the new coaches I wasn't sure what to expect."
The women were judged on dance and cheerleading technique, showmanship and the ability to learn and execute dances.
Black made the team during the first open tryouts, and the coaches said choosing her to be the team captain was a no-brainer.
"She's very responsible, very reliable and a pleasure to be around and work with," Wooden said, "Plus, she has been on the team the longest."
Corcoran-Scott said Black is a great reference.
"We ask her a lot of questions, such as what does the dance team do during halftime and the breaks during the games," Corcoran-Scott said. "Plus, she has the most knowledge as far as what they have done in the past for fund raisers and performance schedules."
Together, the new coaches bring successful dance backgrounds to the team.
Corcoran-Scott said she spent her entire life in a dance studio, which was started by her grandfather in 1951.
Her grandparents owned the studio for 27 years until her mother took it over and ran it for another 27 years. Corcoran-Scott now owns the family studio known as Simmonds Performing Arts, located in Jeffersonville.
"I'm on year seven of my 27 year shift," Corcoran-Scott said.
Corcoran-Scott has also danced professionally in New York and is a resident dancer at the Derby Dinner Playhouse, performing in a couple shows a year.
Wooden began dancing at 4 years old when she began taking dance lessons in Scott's studio.
She attended Ball State University and was a member of the dance team for 4 years. She has taught and coached at Corcoran-Scott's studio through the years.
The two have been close friends and danced together their entire lives, so coaching together is nothing new for them.
"We have been in a partnership before," Corcoran-Scott said. "We know that we work well together."
Both coaches are extremely happy with the team they have assembled, and they have already proven their ability to agree and make decisions.
However, Corcoran-Scott and Wooden said cutting some women from the team was difficult for them because they wished they could have kept them all.
Black said besides having pride and determination, the best advice she can give any woman wanting to try out for future dance teams is to practice.
"Go to some dance classes and work on your technique and showmanship," Black said.
By STEVE NICHOLS
Staff
stevnich@ius.edu