Volleyball players fail to execute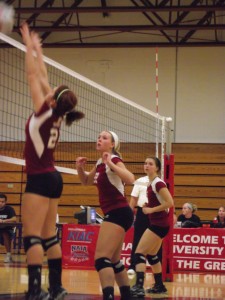 The IUS volleyball team fell to Asbury College on Sept. 27.
The Grenadiers lost in four sets, 3-1, which ended their four match win streak.
IU Southeast won the first set 25-17, before giving up the next three to Asbury.
"[We were] satisfied with the win in the first game," Lesley Drury-Prather, IUS volleyball head coach, said. "We didn't feel the need to work harder."
IU Southeast played competitively in the second and third sets until Asbury pulled away.
In the final set the Grenadiers gained momentum and looked as if they might win the set.
Sara Schum, freshman middle blocker, dominated with 17 kills and kept the Grenadiers in the fourth set.
The Grenadiers fell behind 20-18 in the fourth set before Schum had two straight kills to tie the set at 20.
The Grenadiers kept the set close to the end until they were down 26-25 when the referee didn't make a call on Asbury for a double touch, finishing the set 27-25 and giving Asbury the victory.
"[The referee] was not consistent for the whole game," Drury-Prather said. "He blew that call badly."
The players and coaches were dissatisfied with the call, and they admitted it should not have came down to that.
"We didn't come together as a team," Katie Johnson, sophomore setter, said.
Jade Troutman, sophomore middle blocker, said the Grenadiers game plan broke down.
The Grenadiers lost the second set 25-17 and the third set 25-18.
By JOSH WILSON
Staff
wilsjosh@ius.edu