Banned book reading brings boisterous banter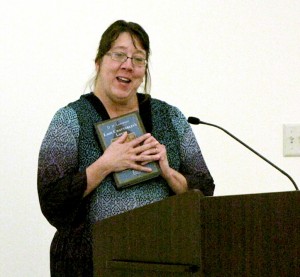 The IUS Library hosted a read out from banned or challenged books on Sept. 27 in honor of Banned Books Week.
The American Library Association has observed the last week of September as Banned Books Week since 1982, and three years ago, IU Southeast had its first banned books read out.
"I thought it would be a good thing to do, something interesting on campus," Maria Accardi, assistant librarian, said.
Although there wasn't a read out last year due to planning difficulties, this year Accardi invited faculty, staff and students to participate.
Readers chose from a list of ten books selected from "Banned and/or Challenged Books from the Radcliffe Publishing Course Top 100 Novels of the 20th Century."
"Books aren't really banned so much in the United States as they are challenged, usually in a school or public library setting," Accardi said.
An information packet provided the history of bans and challenges to the ten books selected for reading.
Adult language, profanity and explicit descriptions of sexual acts were the most common elements found offensive by those who challenged the books appropriateness for high school reading programs or public library offerings.
Racism, violence, religion and politics were also common causes for concern.
Accardi said she warned attendees not to be offended or shocked by what they heard regarding language and sexual content.
"That's the point," Accardi said. "We are free to read whatever we want, regardless of content."
George Orwell's "Animal Farm," read by Jean Abshire, associate professor of political science, was challenged in the U.S. because of Orwell's association with communism. It was also suppressed in Russia for being critical of communism.
"Any book challenged for being communist and anticommunist is worth a read," Abshire said.
"The Lord of the Rings," by J.R.R. Tolkien was burned outside the Christ Community Church in Alamogordo, N.M., along with other Tolkien works, for being satanic.
Anne Allen, professor of  fine arts, read two poems from "The Lord of the Rings," after admitting how she skipped all the poems when she first read them in the eighth grade but now loves them.
"Banning books is all kinds of ludicrous enforcing ignorance," Allen said.
"Of Mice and Men," by John Steinbeck had the most extensive record of being banned.
It was first banned in Ireland in 1953 and continues to be challenged in the U.S. for racial slurs and taking God's name in vain.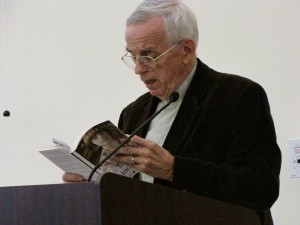 "If you believe the critics, it's a worthless, profanity-riddled book," Rebekah Dement-Farmer, adjunct professor of English, said. "I hope that's not the case because I'm teaching from it this semester."
Each excerpt illustrated the various reasons some found the texts to be offensive.
What may have been the most graphic passage — "Lady Chatterley's Lover," by D.H. Lawrence — was read by Kim Pelle, coordinator for the Adult Student Center.    The book was first banned by U.S. Customs in 1929.
"If you ever read the book, pay close attention to Chapter 12," Pelle said. "To me, it was the most beautiful and sensual chapter of all."
Michael Abernethy, senior lecturer of communications, read Alice Walker's "The Color Purple," with a southern accent, and Jay McTyier, program analyst for the Registrar, read in a British accent from "Brideshead Revisited," by Evelyn Waugh.
Accardi said she disagrees with the opinion that people are not reading books anymore.
"I think people are reading just as much today as ever, but the format has changed," Accardi said. "E-books are very popular."
Sean Welch, political science junior and president of the Student Civil Liberties Union, read from "Catcher in the Rye," by J.D. Salinger.
He said he was happy to participate in the read out.
Anything that hints at censorship is right up [the CLU's] alley," Welch said.
Welch also recommended the movie "Igby Goes Down," as a modern version of "Catcher in the Rye."
The other titles read at the event included "Their Eyes Were Watching God," by Zora Neale Hurston, "Sula," by Toni Morrison and "To Kill a Mockingbird," by Harper Lee.
By SONDRA MORRIS
Staff
sobmorri@ius.edu