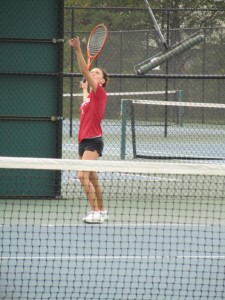 The IUS women's tennis team wrapped up the fall season with an easy victory, 9-0, against IU East.
The Grenadiers ended the season with a winning record, 15-3, during regular season and is the leader of the Kentucky Intercollegiate Athletic Conference, 13-0.
Emily McGrath, international studies junior, triumphed 6-1, 7-5 over her opponent  Courtney Ecker, junior.
"I expected to win," McGrath said. "We've beaten them before, so we knew how they played."
McGrath said she knew to move her opponent around a lot.
"She is a hard hitter, and I can move," McGrath said. "So, I just kept her moving to win."
Even with her success, she still gives herself room for improvement.
"[The win] should have been faster, though," McGrath said, "I should have closed it out during the second set and not given her that much confidence."
The Grenadiers defeated the Red Wolves earlier in the season with the same 9-0 score.
Jenni Walters, IUS women's tennis head coach, was proud but not surprised by their victory.
"We knew what to expect from the players," Walters said. "The girls all played very well and very strong."
Kelsey Wisman, secondary education senior, conquered her singles opponent, Cheltsi Hinners, sophomore, 6-3, 6-0.
"I hadn't played this team before," Wisman said. "Since I didn't know how my opponent played or my opponent's strengths and weaknesses, I decided to keep the ball low, keep it in play, and [I] knew that she would mess up eventually."
The Grenadiers said the win was a good one because they want to win by a larger margin every time they play a team more than once.
Wisman said their goal is to shut down each opponent as soon as possible.
"If we play a team twice like IU East, we want to prevent them from getting as many games as  before," Wisman said. "We want to take away any possible bragging rights they would leave with."
The Grenadiers were chosen to repeat as conference champions in a preseason coaches' poll with IU Southeast finishing first with 62 points in the poll.  Asbury University was second with 50 points.
The team is nothing but confident about how they will do at the KIAC tournament on Oct. 29.
"Everyone wants to beat us," McGrath said. "We win our conference every year."
By CLARE BOWYER
Staff
clbowyer@ius.edu