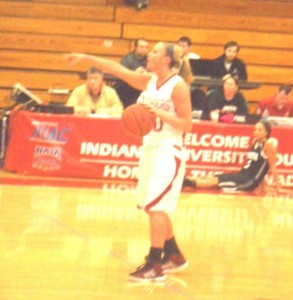 The IUS women's basketball team beat the Brescia University Bearcats with a score of 71-45 on Jan. 17.
This was the Grenadiers 14th victory this season, moving their record up to 14-6 overall.
Megan Murphy, senior forward, was 5-13 from the field. She retrieved two steals, 13 rebounds and scored a total of 17 points and three assists.
Although Murphy led the Grenadiers by scoring the most points and rebounds, Tia Wineinger, senior forward, scored a total of 15 points, nine rebounds and 6-12 from the field.
Heather Wheat, freshman guard, went 7-14 from the field with a total of 15 points and added six assists.
"I think we have done really good and have improved a lot," Wheat said.
Megan Cureton, freshman guard, scored 10 points total.
The Grenadier's tough defense during the game was a force to be reckoned with.  A total of 22 Bearcat turnovers held them ahead with approximately 33 percent of the field goal attempts.
The Bearcats struggled to keep up with the Grenadiers' defense.
Kylee Anthony, junior guard, said they had an impressive offense.
"We have picked up our defense; we have gotten a lot quicker," Anthony said.
Ashmere Woods, junior guard, also spoke about the Grenadiers' defense.
"We came a long way from where we started, and we worked on our defense," Woods said.
Brescia had a total of 18 shots, while IU Southeast had a total of 27. IU Southeast also had a total of nine turnovers, proving their defense had boosted from a lengthy duration of hard work. Also, the Grenadiers had a total of 80 rebounds while the Bearcats had 73 rebounds.
In the first half, IU Southeast scored 30 points  while the Bearcats scored 14. In the second half of the game, the Grenadiers scored a total of 41 points and Brescia scored 31.
Overall, IU Southeast scored a total of 13 free throws while Brescia lagged, scoring 6 free throws.
The Grenadiers beat Brescia University by a total of 26 points.
The Grenadiers said what they expect this season and also what improvements they need to make.
"What we need to improve on the most is reaching our goals each game," Abby Taylor, sophomore forward, said. "Coach Farris writes a list of goals for us."
One of the goals is to hold opponents to 60 points. Another goal is to get at least 10 steals per game and to look for fast breakers.
"I expect us to have a good season, a winning record and to win the conference," Taylor said.
Taylor also spoke about the Grenadiers rival opponent Asbury.
Woods also said she had a few words to say about what she expects from this season.
"I expect us to win the conference championship and a trip to nationals," Woods said.
Robin Farris, IUS  women's basketball head coach, spoke about the team's performance during the game.
"I'm pleasantly surprised," Farris said. "We lost a lot of players through graduation. We have new recruits that mixed in with our veteran players."
Farris said two goals he had for the Grenadiers this season.
"Our goal is to reach our full potential," Farris said. "We would like to win our conference tournament to qualify for the national tournament."
Farris said his team has improvements to make.
"I would like to see us improve on defense and shooting which are the two areas we have been working on every day in practice," Farris said.
By LYNN BAILEY
Staff
lfbailey@ius.edu