Coordinator assists with family-oriented programs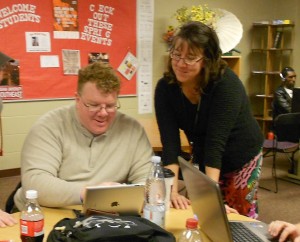 Kimberly Pelle, coordinator for Non-Traditional Student Programs and Family Parent and Children Programs, is a popular face around campus. She works with students who have their own families, and she coordinates related programs around campus.
Pelle said she knows what it means to juggle school, work and a family because she has been down that road before.
"I know how hard it is with a family, job and school," Pelle said. "That is why I took the job."
Pelle has a degree in journalism and political science. She also has her master's in education. She has three children and has been with IU Southeast since 2001.
She said she loves her job because she loves to help others.
"I want to be someone that the students can come to with any of their problems," Pelle said. "I once bought groceries for a student here because they needed a little help."
Pelle said she also wants to be the one who directs students in the right direction.
Pelle hosts almost all the events around campus. She said her ideas and inspirations come from the students, as well as her connections around the world.
"I know people everywhere," Pelle said.
Although her program is directed to older generations on campus, all students are welcome in the Adult Student Center.
The program also involves the children of college students in their education.
"When the family is involved, it makes it easier to graduate," Pelle said.
Pelle said the Herps Alive event she hosts once a year is one of her biggest turn outs. At the event, attendees can see numerous reptiles, interact with them and learn about them.
Pelle works with the Children's Center, Campus Life and Alumni Affairs, as well as other departments around campus.
Her most recent event was the Chinese New Year. It was a Brown Bag Lunch series event in a celebration of the Year of the Dragon, where participants made lanterns and tangrams and listened to music.
By BRITTANY ELMORE   
Staff
blelmore@umail.iu.edu