Professor shares cultural experiences
IUS Horizon
February 13, 2012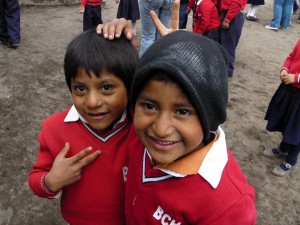 Magdalena Herdoiza-Estevez, professor of education and director of International Studies, is the coordinator and director of the Education of Diversity Education Program, also known as Summer in Ecuador.
This year is the tenth year of the Summer in Ecuador program, which focuses on education and cultural issues using a hands-on approach by interacting with natives in the schools and in their environment.
The program is offered to both undergraduate and graduate students. Although the program was first conceived for the education program, it is now open to any field with students who are interested in experiencing another culture.
Herdoiza-Estevez wrote a grant to IU Bloomington's study abroad program to propose the idea for the trip, as well as how beneficial it is to students.
"I love the contact with students," Herdoiza-Estevez said. "I love to mentor and to facilitate."
Joe Hollingsworth, professor of computer science and informatics, has joined Herdoiza-Estevez on the Summer in Ecuador trip once before. He said he is planning on going again this summer.
"Magdalena is always able to fold students of different studies into the program," Hollingsworth said. "I know people who work as hard as her, but I don't know anyone who works harder than her."
Herdoiza-Estevez is originally from Quito, Ecuador, where the program is mostly located.
While attending a university there, she received a scholarship from the Italian government to study at the University of Florence. There, she received her bachelor's degree in fine arts with concentration on sculpture.  She also went to the University of Sorbonne in Paris to receive her doctorate in socio-economics.
Herdoiza-Estevez said she has always had a strong connection with the arts. Her husband is a composer, and her son is a professional ballet dancer. Her husband was offered a composer-in-residence position by the University of Louisville, which was supposed to be a two-year position.
Magdalena said Louisville is a good place for her children to grow.
By CLARE BOWYER
Staff
clbowyer@ius.edu