Student finds new beginnings
IUS Horizon
February 26, 2012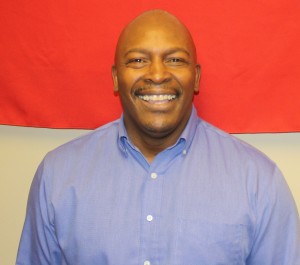 Treavor Martin, communications sophomore and president of the Student African American Brotherhood, has an enthusiastic persona and is passionate about being a part of SAAB.
The SAAB chapter at IU Southeast is a small but eager group of men who help each other with resources and networking on and off campus in order to be successful in school. The purpose of SAAB is to create a community of minority male peers and to provide a positive environment to support each other while in college.
Martin said he had to adapt and quickly learn how to be a leader when he became president two years ago.
"When I received the position as president, I realized I was making the decision, and I had to do a lot of work," Martin said.
Although Martin is a student and the president of SAAB, he said he overcame many obstacles of people telling him he would not succeed in life. Martin is originally from Brooklyn, N.Y., and moved to Louisville when he was 15 years old.
"I hated Louisville when I first moved," Martin said. "People told me I was weird because I talked proper, and I danced funny. I was breakdancing. I lost a lot of friends that day."
When Martin was young, he was caught shoplifting on multiple accounts and continued getting into trouble with the law. He decided to join the military when he was 19 years old in hopes to straighten out his life.
While in the military, Martin said he did not experience the life turn around he expected. Instead, he made poor choices involving drugs and thefts that caused him to be arrested and put in prison. There, Martin became a believer of God and decided to change his criminal path.
"I have made bad decisions in my life," Martin said. "I think people need more falling-down-and-getting-back-up stories."
Martin credits his early prison release to his faith in God and beginning his new life. At the age of 43, Martin began college at IU Southeast, and two years later he became the president of SAAB.
"My life is an open book, and I am not afraid to tell anyone anything," Martin said. "People need to know they are not bad people. It's bad choices."
Ryan Malone, psychology sophomore and secretary of SAAB, was recruited his freshman year to become a member of SAAB and has found Martin to be a friend, as well as a leader.
"Treavor is a very energetic leader," Malone said. "SAAB and Treavor have both helped me network with other students and make more relationships in school."
Martin said he is on his way to graduating, as well as motivating other members to graduate and IU Southeast has given him the opportunity.
"IUS is the bomb," Martin said. "They did everything they could to keep me here and help me."
While taking courses at IU Southeast, Martin has discovered his talent and what he wants to achieve with his degree.
"Public speaking is my natural gift," Martin said. "I've grown in so many ways as a leader because I believe in SAAB's purpose."
By CLARE BOWYER
Staff
clbowyer@umail.iu.edu