Enrollment falls back for semester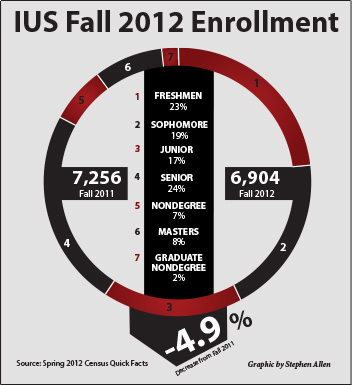 IU Southeast enrollment dropped by 5 percent for the fall 2012 semester and has the smallest population out of the eight regional Indiana University campuses.
Christopher Crews, associate director of Admissions, said IU Southeast expected a drop due to the demographics.
"We expected and knew that the demographics in this area wouldn't support continued growth at that rate," Crews said.
Crews said people are moving out of the area, and, as a result, there are fewer available students to be enrolled.
"Issues like the bridge closure and construction in the area helped to exacerbate that problem that was already there," Crews said.
Other IU campuses with drops in enrollment included IU Bloomington, with a 1.4 percent decrease, and IUPUI, with a 0.3 percent drop.
IU East and IU Kokomo received the largest increases, with 12.4 and 12.1 percent, respectively.
During the State of the Campus Address, Chancellor Sandra Patterson-Randles said the Sherman Minton Bridge closure played a part in the decrease of enrollment.
"The resulting gridlock unfortunately convinced residents and students that cross-river travel was something to be avoided on a regular basis," Patterson-Randles said.
Crews said another factor in the decrease of enrollment is the economy.
"The economy is starting to heat back up locally," Crews said, "so we are seeing a lot of employers start to hire. As employers start to hire and rehire students who were laid off, it really starts to impact that number even greater."
Patterson-Randles said fewer students age 25 and older returned this fall compared to last.
"One reason for this may be the sudden availability of well-paying jobs for people already employed and somewhat educated," Patterson-Randles said.
Anne Skuce, interim vice chancellor of Student Affairs, said IU Southeast is focusing on trying to retain the students they already have.
"We are making sure that their experience is one that wants them to be engaged and continue their process," Skuce said.
Skuce said they have assigned freshmen someone to communicate with them and answer their questions.
"We have never done that program before," Skuce said. "We are going to try to maintain better contact with the students as they go through their programs."
Crews said they are trying to attract transfer students to come to IU Southeast for the spring semester.
"We know based on the demographic information that there are fewer high school students available to be admitted, so that leaves a population of either transfer or adult students," Crews said. "We will start to direct more of our efforts in those areas"
Skuce said they also reach out to possible students who never enrolled in previous semesters.
"We always contact the students that applied and were admitted and ended up not enrolling to encourage them to enroll for the next semester," Skuce said.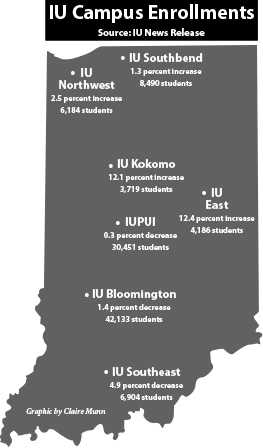 Despite these problems, Patterson-Randles said IU Southeast has done a great job trying to contact these students who never enrolled.
"Our outstanding staff in advising, enrollment management, IT, student development, student services and University Communications have done an incredible job directly calling non-registrants to encourage them to register," Patterson-Randles said.
In order to increase enrollment, Indiana University as a system is putting more emphasis on online enrollment and offering online course work.
Crews said IU Southeast is trying to help and support future students.
"We are continuing to enhance the brand of IU Southeast," Crews said. "We are really trying to take an even further step in terms of being more personable and trying to do more one-on-one assistance that we are known for."
Crews said students choose IU Southeast because they get an IU education in a small classroom.
"It's the best of both worlds because you have the recognition of a degree from Indiana University but, at the same time, a more individual experience," Crews said.
Jordan Willis, nursing freshman, said she chose to attend IU Southeast because of the classes and professors.
"I wanted to come to IU Southeast for the smaller class sizes and to be able to stay closer to home," Willis said. "They also have great professors that are willing to work with your schedule."
Crews said the IUS campus is ideal for students.
"We have everything large campuses have but on a smaller scale, and I think students like that," Crews said. "We aren't so big that you have to take a bus from one side of campus to the other, but we are big enough that it feels like a college campus. You still feel like you're getting that college experience."
By AYSIA HOGLE
Staff
ahogle@umail.iu.edu