Adviser inspired by past, looks forward to future
IUS Horizon
September 23, 2012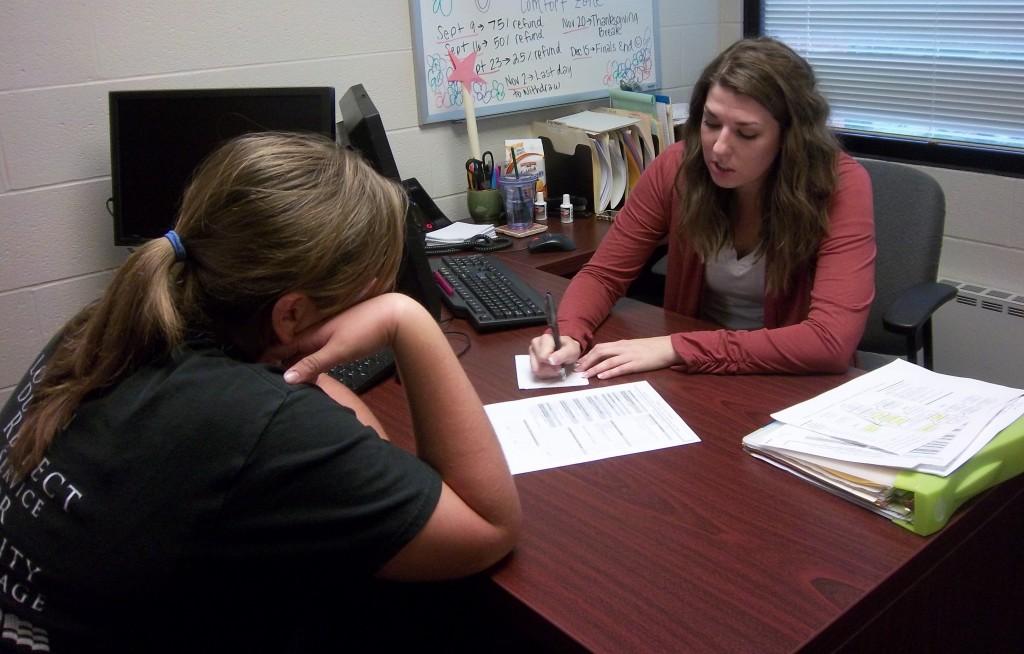 Quirky. Random. Talkative. Hard-working. Loyal. Helpful. These are just a few adjectives that describe Misti Whitaker, newest academic adviser for the School of Social Sciences.
"I think one of the things that makes me so unique is my sense of humor," Whitaker said.
She said her sense of humor runs in the family. Each one of her three sisters, as well as her mother and stepfather, have a similar sense of humor.
"We are a very loud, tight-knit, funny family," Whitaker said. "We are always joking about something. We are all really silly."
Whitaker came to IU Southeast in 2004 as a first-generation college student.
"I didn't know what was expected of me or what I was supposed to do or who I was supposed to talk to," Whitaker said. "All the people who work on campus really helped me out."
Whitaker said she originally chose IU Southeast because of its smaller campus size and because it's a more personal atmosphere.
She said teachers care more about a student's well-being and teachers remember past students.
She said this environment is what made her want to come back and work here. She said her advisers in school were what got her through four and a half years at IU Southeast, and she knew when she graduated she wanted to help students how her advisers helped her.
"It's kind of a neat transition from going to a student and having people help you in your life and inspire you to later coming back for your career to help others the same way you were helped," Whitaker said. "It's my goal as a professional to go above and beyond for my students. I want to give them a great experience while they're here."
Whitaker said, as an academic adviser, she serves as the first point of contact for students on campus. She said if students have any kind of issue, they usually come to an adviser first to see what is needed to be done.
"We are very accessible to them," Whitaker said. "A big part of our job is helping students figure out what they need for their degrees and teaching them how to choose their own classes and empowering them to complete their own degree."
Whitaker graduated from IU Southeast in December of 2008 with a Bachelor of Arts in psychology. After graduating, she went on to pursue a master's degree in education at the University of Louisville.
Whitaker said U of L requires two internships be completed for the master's program, and Whitaker was able to complete them both at IU Southeast.
Sarah Gierke, academic adviser for the School of Nursing, was one of Whitaker's internship supervisors in fall 2011.
Gierke met Whitaker a year earlier at an Internship Fair hosted on the U of L campus.
"I was very impressed with her professionalism and interest in career counseling and academic advising," Gierke said. "I tried to recruit, but, for the spring 2011 semester, she had accepted another internship with IUS's Career Development Center.
Whitaker graduated from U of L with her master's last December, and, because of her internship experiences at IU Southeast, she was an eligible candidate for the open adviser position. Whitaker said she already knew several members of the psychology and advising staff from her time as a student.
She also said it was very satisfying to be able to go into a job right after graduating from graduate school.
"I was very proud when I got the job at IUS because of all the hard work I had put in with my internship and all the connections I had already made," Whitaker said. "Hard work really does pay off. You never know who is going to help you along the way. You never know how the relationships you make with people can help you later in life. Connections are very important."
Gierke said Whitaker came into the internship with a strong work ethic and a good attitude.
"Misti was always willing to take on new challenges, and she seems to take everything in stride with her positive attitude," Gierke said. "I never had to question whether she was going to get her projects done — she always did. I felt very comfortable giving her projects I needed done. She would go above and beyond each time."
Whitaker said she continues to learn from her new job.
"It is never the same issue you're dealing with," she said. "Each student has a different story. It never gets boring. They all have their own thing to add to my day. That's one of the things I really like about my job."
Whitaker said she has some advice to share with students about making it through life.
"I think you can get through anything if you really, really try and have that positive attitude," she said.
By KIM KERBY
Staff
kdkerby@ius.edu