Cadet Program turns students into officers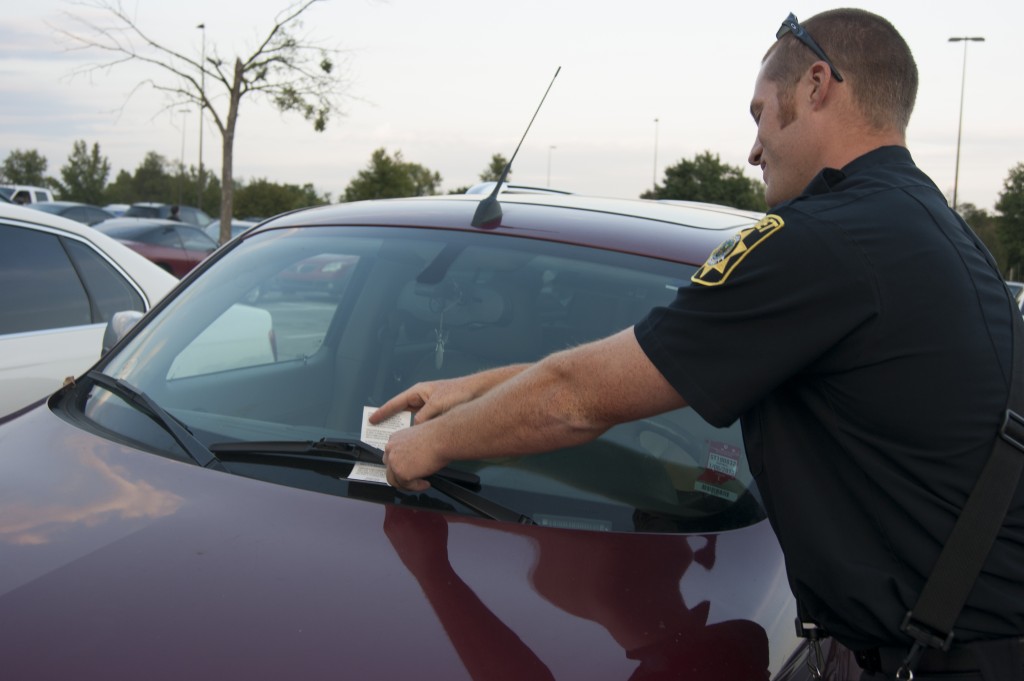 In 83-degree heat and full-police uniform, Ryan Knight, criminal justice junior, has been giving out parking citations for nearly five hours.
While he may be tired, Knight said he is very proud of his work as the first police cadet at IU Southeast.
"I'm extremely happy with my position," Knight said. "I've learned so much even in just my first week."
This new Cadet Program was introduced by Charlie Edelen, IUS Police chief, in July 2012. The program is based off the 40-year Cadet Program at IU Bloomington.
"I applied for the funding back in February 2012 and received it in July of that year," Edelen said. "I was surprised how quickly students responded to the program."
This program will allow students to gain experience in the police force by working for the university during their junior and senior years.
During the application process, students must have their background checked and go through a physical exam.
The student must also be in good academic standing, with a GPA of more than 2.3 or 2.5.
This semester, only one student was chosen for the cadet position; however, next semester they are looking to hire more.
As a junior cadet, some of the responsibilities include dispatching, writing citations and auditing keys. Cadets are also in charge of documenting almost all of their work to help them become familiar with the paper work aspect of the police force.
"The paperwork and the documentation system are some of the hardest things I've had to learn," Knight said.
Cadets work part time —about 15 to 20 hours— and are paid by the hour.
Once students have completed the Cadet Program during their junior year, they will be able to act as a part-time officer for their campus during their senior year.
Students will also be sent to the Police Academy Program at IU Bloomington during the summer from May to August. At the academy, the students will become a sworn police officer.
Being a sworn officer, they will have the same responsibilities as a full-time police officer on campus, such as responding to emergency calls on campus.
"Students will actually gain experience as a police officer," Edelen said. "They will be able to put this on their job résumés."
Students can also increase their networking abilities by coming in contact with officers within high-ranking offices, such as the FBI and the Secret Service.
"Even the head of the state police has graduated from this program," Edelen said.
The next opportunity to apply will take place in September 2013.
"I hope this program will remain as successful as it has been this year, and I can't wait to see the strong applicants we will have for next year," Edelen said.
By GAIL FAUSTYN
Staff
gfaustyn@ius.edu