Grenadiers shut out Spalding
IUS Horizon
October 7, 2012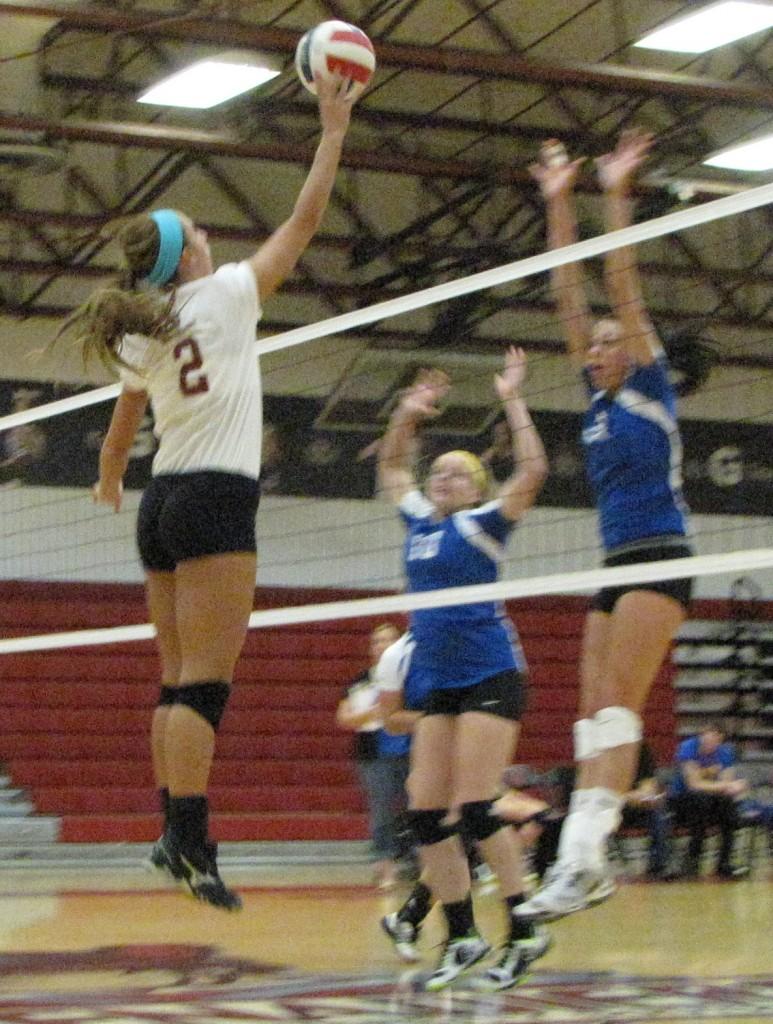 IU Southeast came off their two game losing streak with a hard fought victory over Spalding University, Sept. 27 in the Activities Building.
The Grenadiers battled to hold their lead throughout each set and eventually came away victorious, winning in three sets; 27-25, 25-22, 27-25. The Grenadiers dominated the game with kills, spikes and blocks.
Coral Maybrier, freshman outside hitter, and Jade Troutman, junior middle blocker, completed the night with a combined 29 of the Grenadiers' 47 kills — Troutman with 15 and Maybrier with 14. Every member of the team ended the night with at least three spikes apiece. Meaghen Tompkins, sophomore setter, had a match-high with 33 assists for the Grenadiers.
Spalding's Elisa Burkman, outside hitter, finished the game with a match-high of 16 kills. Morgan Wilson, freshman setter, had 31 assists for the Golden Eagles.
Maybrier said that every time she went up to for a spike she kept repeating the same things to herself.
"No tips," Maybrier said. "Don't just lollipop it. Just keep swinging, swinging. Put it down. Get this play over with and move on to the next one."
Spalding took the first point of the game after returning IU Southeast's serve. The first set was fast paced, and the Golden Eagles tried, but the Grenadiers quickly ended it with a win, 27-25.
The Golden Eagles attempted to rally back after the first set, and, once again, kept the score very close.
IU Southeast's front row dominated with powerful spikes, resulting in 35 kills for the Grenadiers.
Spalding called its first time out with the score standing at 23-22. IU Southeast claimed the following point, causing the match to shift to game point.
Bridget Yates, Spalding head coach, called their second time out in a last minute effort to rally the team.
IU Southeast took the final point, 25-22.
During the third set, the lead shifted multiple times between the two teams.
The Grenadiers continued to hold on to their momentum and fought hard to keep the scoreboard in their favor. IU Southeast's front row continued dominating defensively.
Lesley Drury-Prather, IUS volleyball head coach, called her first time out, with the score standing at 23-22, in favor of Spalding. IU Southeast rallied back and pushed the score to 25-24, when Spalding took their second time out of the set.
Tensions were high as the Grenadiers served the final point into the Golden Eagle's defense.
Both teams volleyed back and forth before Spalding mishit the ball and sent it out-of-bounds. IU Southeast came through with the win, 27-25.
Despite the strong victory over Spalding, Drury-Prather believed her team could have played better.
"Tonight was nothing like we had hoped," she said. "We didn't play as a team. I think we had a mindset that we could beat them, and so we just played like it would happen no matter however bad we played. We just kind of played with them and just let them control the tempo, which is not the way we play."
Maybrier said the coaches kept telling the team the same things over and over again.
"Just don't give it to them because we've pushed this far with it," Maybrier said. "Don't let them have it. Keep fighting. Just take it from them."
Drury-Prather re-emphasized Maybrier's statement.
"We just told them to stick with what works," Drury-Prather said. "There were some plays that really worked for us, and we just told them to stick with that, but, for some reason, we still had a hard time sticking with that. The girls weren't doing a good job at listening to our instructions, so we said the same things over and over. We were basically just saying do not play with them, you control the tempo, and it just didn't happen tonight."
Drury-Prather agreed the team has things that need improving on.
"Communication, talking and listening. It's a two-way street, and that's one thing we don't really get," Drury-Prather said.
"We think that when we say communicate, they chat it up, but they don't listen to each other. We go on these rollercoasters," she said.
By KIM KERBY
Staff
kdkerby@ius.edu