Student finds fulfillment through fraternity, family values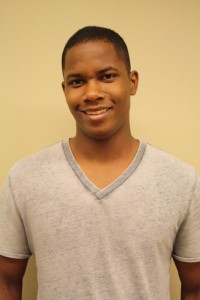 Joe Voss, music business junior, is a trumpet and keyboard player, actor, secretary for Pike fraternity and is from a family of 15.
Voss said he has played the trumpet for 13 years and the keyboard for three years.
"I got interested in music when I was 8 or 9," Voss said. "My family is really musical. My parents encouraged us all to get an instrument just for stress relief or as a talent to have when we're older."
Voss said he started playing the trumpet after his sister quit playing it.
"I like the instrument a lot," Voss said. "It's loud and just out there."
Voss said his parents encourage him to do his best in everything he does and stay focused on only the important things in his life.
"If I'm going to do something, I should make it worth doing," Voss said. "Making it big and substantial is what it's all about."
Voss said he has been exposed to a lot of different cultures and personalities.
"I'm adopted from Cleveland from a large family of 16 siblings," Voss said. "Three of my siblings are biological from my parents, and the rest of my siblings are adopted from Haiti and places all over the world."
Voss said he has a lot of respect for his parents and considers them to be angelic.
"It takes a special type of person to adopt and do it for the right reasons, let alone to adopt 13 kids from all over the globe," Voss said. "Their undying ability to love each child equally baffles me."
Voss said his parents have instilled values in him that he holds close.
"Their views of having respect for yourself and others, using time wisely and understanding the bigger picture always speak to me during times of joy and trouble," Voss said.
Voss said he is heavily involved in the Pike fraternity as the secretary.
"A lot of people don't know it took me two years to become a Pike," Voss said.
Voss said he did not get to complete pledgeship the first year he tried to become a Pike.
"I got really sick and had to be hospitalized," Voss said. "I didn't complete pledgeship that year, so I had to wait a whole year."
Voss said he likes to explore and meet new people through his fraternity.
"It's something you really have to go through and experience," Voss said.
Voss said he believes any experience is what people make of it.
"I've kind of grown to love the school," Voss said. It's small, but it's comfortable. In the end, you get what you put into it, whether you go to Cambridge or IU Southeast."
Voss said he encourages people to get involved on campus.
"You shouldn't wait for someone to tell you it is OK to do this or that," Voss said. "You can be ambitious. There's nothing wrong with being ambitious."
By AYSIA HOGLE
Staff
ahogle@umail.iu.edu