Non-traditional student values 'I,' 'US'
IUS Horizon
October 14, 2012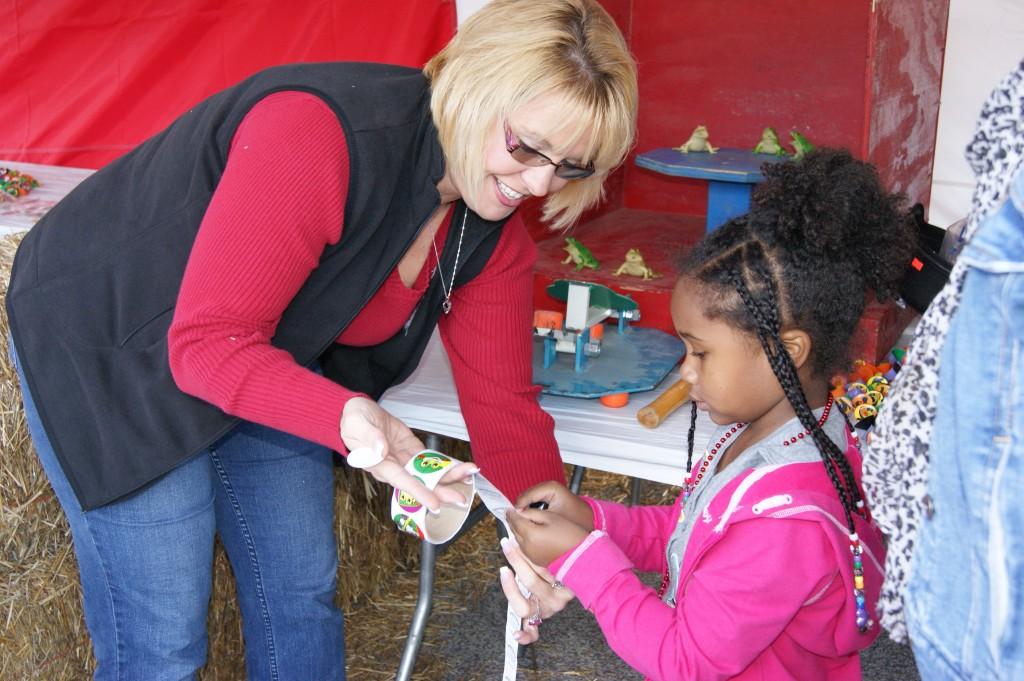 The moment Yvonne Bagshaw, general studies senior, walked into the Adult Student Center for the first time, Kim Pelle, coordinator for Non-traditional Student Programs, said she knew Bagshaw was going to be very successful and inspirational.
However, Bagshaw said she did not always feel that way.
"I hated school," Bagshaw said. "I dropped out of high school and had no intentions of coming back."
Like most people in her situation, Bagshaw said she faced the struggle of the tough economic times and the declining job market.
"Most jobs require at least a high school diploma, and I didn't even have that," Bagshaw said.
Bagshaw said it was time for a change. In 1991, she received her General Education Development. Then, in 2009, she began her journey at IU Southeast.
She said her biggest mistake was coming back to college with two classes in the summer semester.
"It was absolutely overwhelming because the classes move at such a fast pace," Bagshaw said. "I had been out of school so long, and a lot of things had changed. I didn't even know where to start."
Not only was the pace of her first college semester hard for Bagshaw, she said it was hard for her to even find time to study.
Bagshaw has two children, a 17-year-old son, Nathan, and a 4-year-old daughter, Brooklyn.
Bagshaw said her routine at home consists of doing all the household tasks and putting the children to bed, so she was not able to study until 1 a.m. or later.
"Going to school and being a single mom is a huge struggle, but my kids understand and are really supportive of me," Bagshaw said.
Feeling pressured by school and upset at how much time she was missing out on, Bagshaw said she almost gave up, but, with the help of one of her professor, Greg Phipps, senior lecturer of sociology, she decided to stay.
"If it wasn't for him, I wouldn't have stayed," Bagshaw said. "He made me feel like I was valued and helped me as much as he could."
Now, Bagshaw said she is an entirely different woman who projects confidence. She calls herself the "IU Guru."
"I love IU Southeast and all the experiences it has provided for me," Bagshaw said "I couldn't have done it alone. To me, IUS stands for something much different — I see an acronym. 'I' am a student, but it takes 'US' to make it a college, and I am nothing without 'U.'"
Bagshaw is now is the assistant coordinator for Pelle at the Adult Student Center, the president of the Non-traditional Student Union, an active member in the Student Alumni Association and the Multicultural Student Union and a mentor for the Mentoring Program. She said she also volunteers her time doing community service with the Gold Program.
Pelle said she describes Bagshaw as a very empathetic person and extremely motivating.
"She genuinely cares about people, and she's just so vivacious," Pelle said. "It's easy for people to relate to her."
Pelle said she loves working with Bagshaw and how they have developed a close friendship.
"Yvonne always says to me, 'I learn so much from you,' but what she doesn't understand is that I learn so much from her, too," Pell said. "It's a give-and-take working relationship. I wouldn't be able to be as successful without her."
When new non-traditional students are coming to IU Southeast for their orientations, Pelle said she loves having Bagshaw speak to them, so they know they are not alone.
"When students see someone who is in an administration position telling them they should go back to school and you will be successful, the message sort of passes by unheard," Pelle said. "However, when they see Yvonne who is actually going to school and telling them stories of all her achievements, they listen because she is here now, and she is doing it all. She really is an inspiration."
Bagshaw said she loves to share her story with others.
"In order to keep peace within yourself, you have to share it with others," Bagshaw said.
After attending IU Southeast for three years, Bagshaw is going to be graduating this year.
"I have finally become the person I have always wanted to be," Bagshaw said. "I am educated, and I am respected, and I feel important. You don't just get a degree, you earn one, and I know that everything I had to sacrifice now, be it time with my family or missing out on some sleep, will be rewarded to me in the future."
By GAIL FAUSTYN
Staff
gfaustyn@ius.edu