Students design visual pieces for community project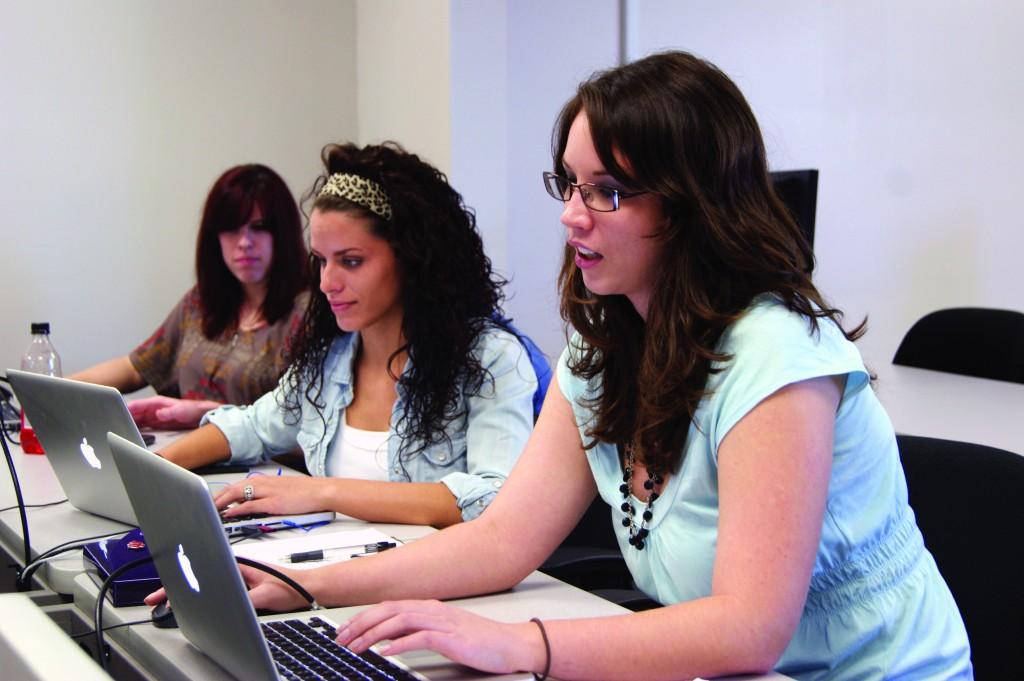 The Harrison County Community Foundation Center unveiled the visual work of three IUS graphic design students on Oct. 11 as part of an ongoing project called "The World Comes to Harrison County."
Designed by Amie Villiger, graphic design and painting senior, Brittany Norris, graphic design senior, and Courtnee Scifres, graphic design senior, their work included a floor map and a cultural timeline, which was made digitally and as posters.
"Basically, in Harrison County, there are many cultural influences and people who have come from other countries, and this project is to kind of show that and teach people about all of the diversity that is in Harrison County," Norris said.
The project is a collaboration between IU Southeast's Center for Cultural Resources, the Harrison County Community Foundation, and a group called Community Unity, which consists of educational resource kits with a focus on the cultural diversity of Harrison County that can be loaned to schools and used as teaching methods.
According to the HCCF, the foundation gave a $5,390 grant to Community Unity.
Claudia Crump, co-director for CCR, said Community Unity asked CCR to act as producers for the project.
Crump said the creators brainstormed and decided the information needed to be presented visually. She said she enlisted help from Michael Koerner, lecturer in fine arts, because he leads the Design Center – a class that serves as an internship for graphic design majors and allows them to work directly with clients on specific projects.
"This project would not be what it is without the help of the design center," Crump said.
Koerner selected Norris, Scifres and Villiger last semester to work on the project, and they finished their work at the beginning of this semester.
Scifres worked on the floor map, Norris on the tangible timeline and Villiger on the interactive, digital timeline. Villiger also designed the project's logo.
Map
The map is a vinyl, 10-by-10 topographical map of Harrison County, which is surrounded by other countries the people of Harrison County came from.
Villiger traced the outlines of these countries and Scifres placed them on the map. Scifres also picked the map's material and decided how it would be constructed.
"It was a fun process," Scifres said. "It was definitely something totally different that anything I had ever done before but seeing the end product was really cool."
She said she had never worked on something geographical or that large of a size before.
Crump said when the map is distributed to schools it also comes with a covering that allows the teachers to draw over the map's content.
Timelines
Two versions of the tangible timeline were created. One is a 16-foot vinyl piece that can be stretched out and rolled up, and the second can be divided into different pieces.
Crump said this allows for students to work in groups when evaluating the timeline.
The timeline features events occurring in three different sections: Harrison County, Indiana and the United States.
"While you're seeing what's going on in Harrison County, you're also seeing what's going on in the U.S. and what's going on in the world," Norris said, "so you can kind of get of a view of everything that's happening at the same time."
Villiger also created the timeline in a digital form that can be viewed on a touch screen computer.
The main page features the same information as the poster's timeline, but users can click the captions and a new window will open with more information about that topic.
Every event on the Harrison County portion is linked to more information. The Harrison County events also lead to pages about specific cultures of the county.
That page features links to other pages for information within that culture, such as religion and food.
Villiger said she worked solo on the digital project during an independent study over the summer. She said the interactive timeline was created using web design software like Dreamweaver.
"I've never done anything like that," she said. "It was cool to learn how to do it."
Logo
The logo Villiger created was featured on each piece of the project, which incorporated the project's title and a map of Harrison County, with arrows pointing toward the county to symbolize people immigrating there.
All three students said they learned new skills and enjoyed the experience of working together and with a committee.
"I actually enjoyed working with a committee of people instead of just an individual," Scifres said. "It was a big challenge, but it helped us — every one of us designers — grow with our client relations."
Though the students' designs may be finished, Crump said the project will never be completely finished because the traveling educational kits also includes scrapbooks from the CCR.
The scrapbooks include interviews, documents and pictures from immigrants who came to Harrison County.
Crump said the CCR has more than 100 kits in their library on different cultures, but they wanted to incorporate it into a local project.
The timelines, map and scrapbooks will circulate together to various schools.
Crump said the project is set up as model for what schools can do and for how a county can find out cultural influences.
The timelines and map will be shown to prospective Indiana and Kentucky schools on Nov. 9 in the IUS Library.
By SAMANTHA FRAIZER
Staff
sefrazie@ius.edu