Chef adds zest to Food Court
IUS Horizon
November 5, 2012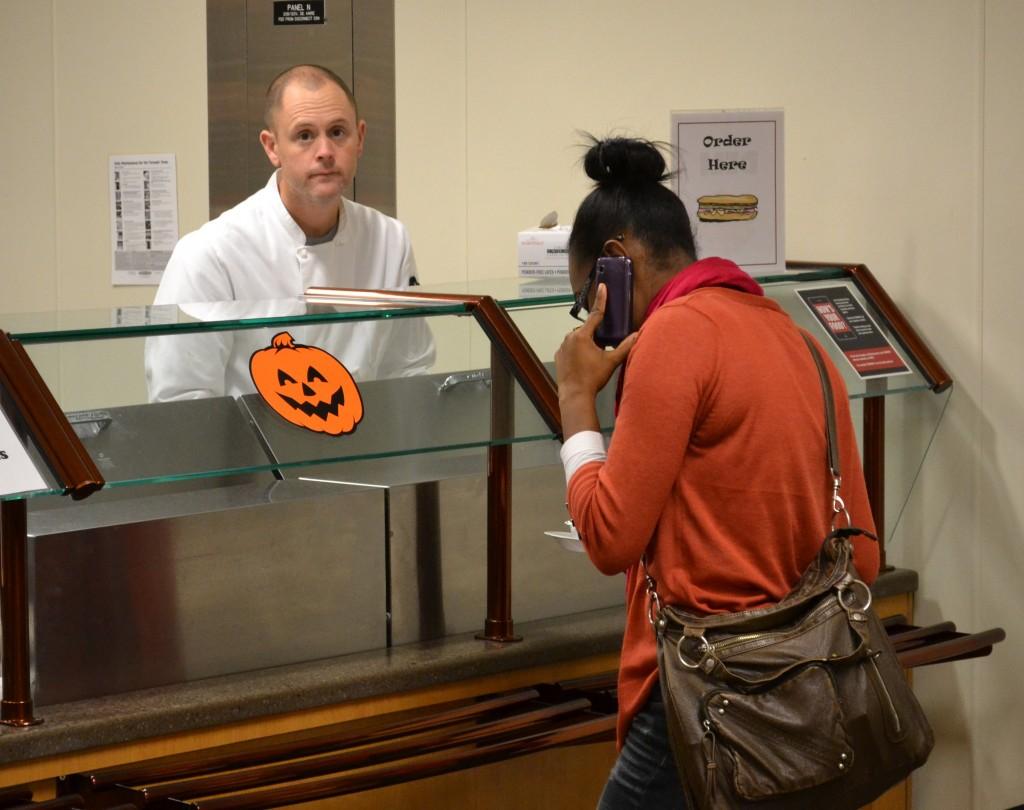 IU Southeast hired a new chef at the beginning of the year, Aaron Wilder, sous chef for Dining and Conference Services.
Wilder graduated from the School of Business with a Bachelor of Science in business management at IU Southeast in 2006.
"I learned more from being on the job than in [culinary] school," Wilder said. "I felt [it] was a waste of money."
He said he never received a degree in culinary arts ,just a degree in business.
"I have always been in the food business since I was 15 years old," Wilder said. "I started at McDonald's as my first job."
Wilder said getting the job at IU Southeast was not easy. He applied for the position three different times throughout a three-year period before he finally got the job.
"Being an alumni I thought would help me get the job," Wilder said. "I wanted to get out of the restaurant lifestyle. I have two little kids, and I wanted to spend more time with them on the weekends. I currently work at Ernie's Restaurant part time until he fills his staff."
Wilder said working at IU Southeast is a lot more controlled than in a typical restaurant.
Wilder said he thought one thing that helped him get the job was his skills at financing.
"Going into a situation and finding out where money is being wasted, having the basic knowledge of accounting and finance has helped me out a great deal with managing people," Wilder said.  "Ideally, I didn't want to be in the food service for the rest of my life, but you stick with what you know."
Wilder has two sons — Jace, 3, and Trevor, 6.
Wilder is a single-father, and he said his job at IU Southeast allows him to spend more time with his children.
"My kids are proud of me for getting this job," Wilder said. "I brought my kids here to see my new work place, and Trevor has never seen a kitchen this big."
Wilder's son Trevor is autistic, but Wilder said that does not hinder his son's creativity.
"He is very shy, but very intelligent for a 6-year-old," Wilder said. "Trevor loves computers and electronics in general. He can take them apart and build them back."
Wilder said this job allows him to be more creative, as well.
"Working [at IU Southeast,] you have freedom to create food items," Wilder said. "I like to work with work-study kids."
Wilder said there are six or seven students who help prep food.
"All the students work together really well," Wilder said. "It's all been so positive so far."
Paul Rowland, biology freshman and employee for the Food Court, said he thinks Wilder is a good addition. to the staff.
"I think he's a qualified individual, and a very good asset to the IUS cafeteria," Rowland said.
IU Southeast has several new students working in the Food Court this year including Megan Whyte, biology senior.
"I really like him," Whyte said. "He fits in easily."
By JEREMY EILER
Staff
jreiler@ius.edu