Student quits school, comes back ready to collect bet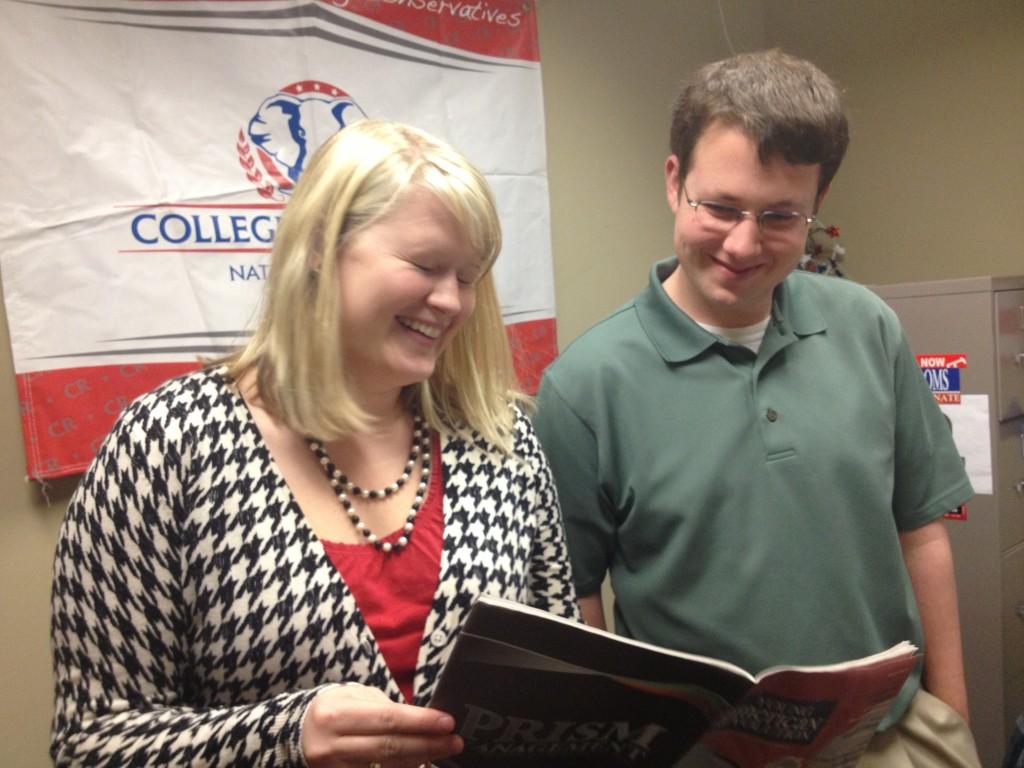 Laura Caruso, communication senior, has had a long, winding journey through college. However, she said this is not due to a lack of motivation, but rather to a plan for the future.
Caruso first attended IU Southeast straight out of high school in 2005, took a break after 2008 to put her husband Michael through classes at Purdue University and returned in 2011.
"It's a big deal to me that I actually got myself back here, and I'm balancing — sometimes horribly — making sure my husband has food and getting good grades," she said.
Caruso lives in New Albany with her husband and currently takes 16 hours of mostly upper-level communication classes.
She is also president of the College Republicans.
"I've been very specific with the way that this was going to go down," she said. "It was going to be degree, then job, then kids."
Now a semester away from graduation, Caruso will soon have the degree.
Caruso said her main track within her major is speech communication. She believes this track will help her with the next step, getting a job.
"Nothing excites me more than actually getting to write a speech," she said. "I think that spoken word makes things come to life."
Being president of the College Republicans will help, too, as Caruso's major career goal is to write speeches for politicians.
"I don't want my personal life to be torn apart," she said. "You know, you see them attacking Mitt Romney and Barack Obama over all this stuff. I'd rather be the person writing for the person being attacked."
Corey Schunemann, accounting and finance senior and secretary of the College Republicans, said he thinks Caruso will do well with that career.
"She seems to know a lot," he said. "In fact, during the debates and stuff she was telling me all these different things [that] I had no clue was even a thing."
Caruso said working for the College Republicans has helped her get into the inner circle of local politics, but she thinks writing speeches will not happen for a while since it takes time for someone to build a reputation in politics.
"It's opened some doors to, at least, help meet some new people," she said.
Meeting new people — politicians or not — is something Caruso said she loves to do. She loves to talk, write and be personable, which is why in the meantime she hopes to work in nonprofit organizations.
Caruso said Josh Kornberg, an IUS communication graduate, now has her dream job. He works for Volunteers of America and spends the day meeting and working with people of the town.
He does not just work on paperwork in an office, something Caruso said would never work for her.
"Most non-profits agree with my values," she said. "If you work for a Christian organization, you're going to have some agreement on values."
She said she is interested in some non-profit organizations in Louisville and Southern Indiana.
Caruso is active in her church, which is located in her hometown of Charlestown, Ind. She has attended since she was 12 years old. This month she performed with the choir and played a small role in the church's Christmas program.
She said her husband is the sound technician at the church, where the couple also attends a class for young married couples.
Along with church and schoolwork, Caruso said she enjoys target shooting at the gun range with her husband and shopping at department stores such as Dillard's and Carson's.
Now nearing the end of her college journey, Caruso said her proudest accomplishment to date is returning to school.
"When I got married, there were seriously people that were like, 'I'll bet you $50 you won't go back to school,'" she said. "I'm collecting this May."
By SAMANTHA FRAZIER
Staff
sefrazie@ius.edu