Metro ranks best among nation
A report conducted by two professors at Portland State University dubbed Louisville "the best U.S. city at luring and retaining educated young people," with Portland, Ore. — long thought of as one of the hippest places in the country— coming in second.
"It's really diverse," Sam Parsons, criminal justice junior, said. "You don't get that in a lot of cities."
Just 12 miles south of Indiana University Southeast, with a population of 602,011 compared to New Albany's 36,570, many young people may be migrating to Louisville for a taste of the city life.
Between July 2010 and July 2011, the city experienced an average migration of 9.86 people per day, a bigger growth than 85 percent of all U.S. metropolitan areas, according to Business First.
Parsons is from Floyds Knobs, but moved to Louisville in 2011.
"In Louisville there's more entertainment," he said. "A lot of my friends actually live over here so I wanted to be closer to them."
Entertainment it has in spades.
It seems that Louisvillians find plenty of things to do during the fifty weeks of the year that they are not celebrating Derby.
In addition to well-known spots, such as the KCF Yum! Center, The Slugger Museum and Bat Factory, and the Louisville Zoo, in nearly every neighborhood there can be found clusters of local shops, eateries and bars can be found.
On Bardstown Road, one can find The Holy Grale, a Gastropub for those with a refined beer palate and a few extra bucks, across from Cahoots, a local dive with cheap drafts, pub fare and a large pool room.
Down the block, Wild and Woolly Video, known best for its selection of rare and independent flicks shares a three-car parking lot with La Que, a small, casual Asian restaurant, suggesting that one fares better in the Highlands on foot or bike.
The East downtown area is host to Slugger Field, the Louisville Extreme Park, a strip of art galleries, and newly opened restaurants, like Harvest, which strives to use only fresh, local ingredients, and Please & Thanks You, a coffee/record shop.
Then there's Zanzabar and Nachbar in Germantown, as well as the small Italian restaurant, The Come Back Inn.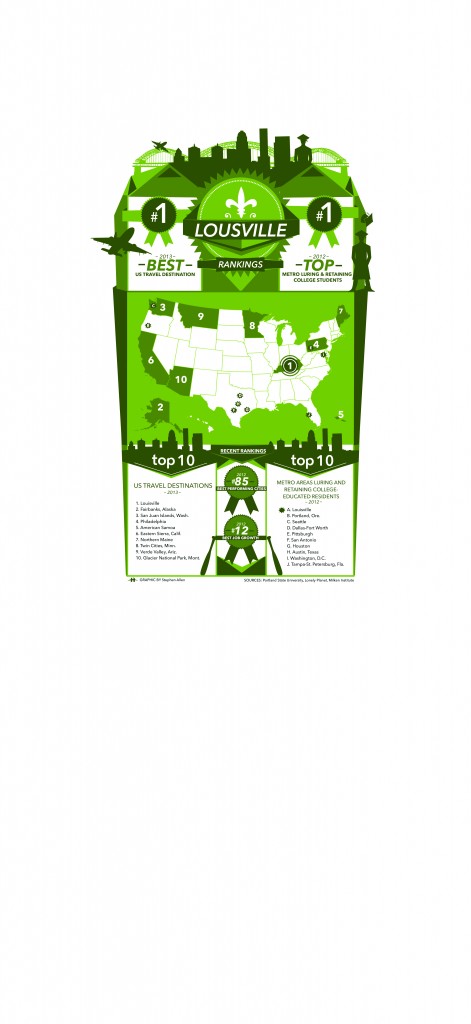 Parsons said that he avoids places like Fourth Street Live! because it's not his style, but said that there is no shortage of cool places in the metro.
The growing East Market Street scene is one spot Parsons enjoys.
"Garage Bar, Meat—that's a really chill place, really dark but just unique with good music," he said. "A place I go has to have good music—dance, pop, alternative rock, anything really but country."
The East Market Street area, aptly dubbed "NuLu" by Gill Holland, who owns several of the buildings, has experienced a major transformation.
A street that, until recently, was lined with abandoned, crumbling buildings is now the restaurant and gallery hot spot of the city, according to Eater National.
Parsons said that he likes being in Louisville now, but he will probably settle down somewhere in Indiana.
"I think I'm always going to be a country boy,' he said. "Louisville is fun but I also like the peace and quiet and looking at the stars."
Some of the migration to Louisville can be attributed to regional students who move to go to school, and decide to stay.
"Muhlenberg is an old town," she said. "A lot of people there have never seen anything else. I know there is something else."She said that she thinks a lot of the residents consider it home, and would not want to move.
Pressley, who currently lives in Germantown, said that she mainly hangs out in the Highlands neighborhood. She said that she visits Cherokee Park often and likes the atmosphere of the Monkey Wrench and Barrett Bar.
She also goes out to listen to her boyfriend's brother's band, The Smoke Shop Kids, whenever she can.
"They have a sax and a trombone—kind of a jazz/jam band. They're awesome," she said.
Pressley said that she plans to go on to get her master's' degree in nursing from University of Louisville and to settle in the area.
Pressley said that she thinks there are a lot of opportunities here for young people, and part of the draw is the people themselves.
"When you have so many young people already here, and you're young yourself, why would you want to leave?"
By APRILE RICKERT
Staff
apmricke@ius.edu