My respects to Jackie Kennedy
When someone says the name Jackie Kennedy Onassis, the first things that come to mind are big sunglasses, over the top attire and, of course, her arm candy, John Fitzgerald Kennedy.
Nov. 22 will mark the 50th anniversary of the assassination of JFK, but I am more interested in the lasting impact the Kennedys have had on fashion, and how Jackie's timeless style is emulated by our current first lady.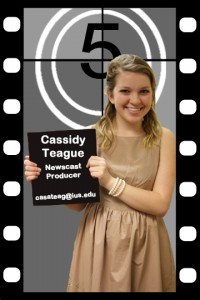 If you have never seen a picture of JFK at his father's house in Hyannis Port, Mass. wearing his Wayfarer sunglasses —let me be the first to tell you — you are missing out.
President Kennedy started the skinny tie that is still in today. Before him, ties were short and stubby.
As stylish as JFK was, I fully believe that Jackie picked his clothes out for him like a mother does for her child.
Jackie Kennedy was always a very controversial first lady because she often shied away from the spotlight, but she never looked less than well put together. She was an icon of beauty and style in the '50s and '60s.
In the John F. Kennedy Presidential Library and Museum in Boston there are several dresses and hats that exemplify Jackie's timeless impact on fashion. She was a celebrity, and everyone wanted to be like Jackie Kennedy.
She was a very classy lady. My grandmother loved the first lady so much that she named her fifth daughter, my mother, Jacqueline after her.
A first lady that has so much impact on a generation is bound to carry longer than her husband's term, but who would have thought that 50 years later big sunglasses, tall bouffant hair and high-waisted dresses would still be in style.
For that we have Mrs. Kennedy to thank.
As I was watching Barack Obama take the oath of office for his second term, I noticed that his first lady was grabbing my attention more so than the president himself. Michelle Obama looked every bit of what a first lady should look like and then some.
Could Michelle Obama be our modern-day Jackie Kennedy and fashion icon? I think so.
A classic Jackie look was her big hair. At the inauguration we got a blast from the past with Michelle's bangs, which have since made top news.
The fact that Michelle Obama's bangs have made headlines takes us back to the glorious '60s, and reminds us just how influential our first lady has the potential of being.
Both women have appeared on the cover of "Vogue" and "Time," and looked fabulous doing so. Michelle has also recently been on the cover of "Glamour" and "People."
Jackie Kennedy was 31 when her husband took office. Michelle Obama was 45 years old when her husband took office, making her the youngest first lady since Jackie.
As a young adult I am more likely to model my style after Michelle Obama than Barbara Bush, who was 63 when George H. W. Bush took office.
Jackie Kennedy and Michelle Obama both made renovations to the White House. Jackie left a piece of her style when she left and Michelle will do the same when she departs in 2016.
I can talk about the similarities all day long, but the clear-cut difference is that Jackie made her mark 50 years ago, and there will never be another like her. Jackie has clearly left a lasting impact, and I believe that Michelle will do the same. However, I do not believe that it will be to the extent of Jackie Kennedy.
Jackie Kennedy will always be America's most influential first lady.
By CASSIDY TEAGUE
Newscast Producer
casatea@ius.edu