Valentine's Day: Do not hate, celebrate
Regardless of situation, make holiday exciting experience
I heart Valentine's Day — I said it.
Let's get this out of the way early: Yes, I am in a relationship (Hey, Tommy) and yes, because of the holiday, I am pretty much guaranteed to see "Safe Haven" with him on Thursday. But that is not why I love it.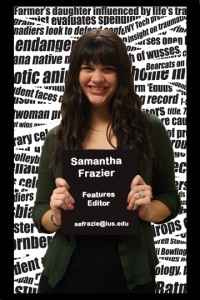 I have spent Feb. 14 putting my hands up to Beyoncè's "Single Ladies" and enjoyed it just the same.
I mean, what's not to love?
I get a card — with money in it — from my grandma. Everything is in pink and red. I get to eat heart-shaped food.
Restaurants and stores have specials they do not normally have. It is not even frowned upon to make a reservation to take a date to White Castle.
Most of all, though, Valentine's Day gives me an excuse to spend time with the people I love. With busy schedules, it is nice to have a designated day to do that.
Relationship or not, Valentine's Day is just awesome.
I think that the holiday's haters just do not see it for what it is.
What people need to remember is that Valentine's Day is, above all, a holiday. It is meant to be celebrated. And it is one of the few holidays where you get to decide how you celebrate. You are not obligated to go to your Uncle Bill's house in the middle of nowhere, have your cheeks pinched by your aunt and listen to your cousin's stories about his cat.
You can do whatever you want.
This means you can start your own traditions: go out for drinks or make cookies, whatever you are into.
Valentine's Day is not the date of your yearly relationship-status check-up, no matter how much you want to make it that. It is not "Single's Awareness Day," as many have so unpleasantly deemed it.
Quite frankly, the only thing more depressing than being depressed on Valentine's Day is hearing people complain about how depressed they are.
Valentine's Day does not have to be depressing — I do not see how it could be with all the bright colors and stuffed pandas holding hearts, anyway — but just because you are single does not mean you cannot enjoy it. Atheists still enjoy Christmas, don't they?
Sure, we should be spreading love every day, but nobody hates on Thanksgiving because it celebrates something we should be doing every day.
All I am saying is Valentine's Day has the potential to be an awesome holiday —if you let it.
If money is what you are concerned about, do not spend it. Take your valentine hiking or for a bike ride; just sit at home. It does not have to be extravagant.
Feb. 14 is meant to celebrate love. It is a day to remind the important people in your life that you care about them —and this is not just your partner, Carrie Bradshaw! It could be your family, friends, even yourself.
So, why don't you send a friend a corny valentine or call your mother? Or, as Tom Haverford, America's favorite government employee would say, treat yo'self.
I guarantee if you do non-costly, positive things like that instead of feeling sorry for yourself or worrying about gifts you will fall in love with Valentine's Day just like I did.
After all, with so much negativity in the world, how could spreading a little love be a bad thing?
By SAMANTHA FRAZIER
Features Editor
sefrazie@ius.edu
Check out senior editor, Bryan Jones', opposing column on Valentine's Day here.