Ga-Ga for Eva
Whether someone is making a statement or just throwing an outfit together, people tend to judge appearance before personality. People frequently approach Evangeline Flowers, fine arts freshman, because of her fashion sense.
Some students might mistake Flowers as popular recording artist Lady GaGa because of her unique fashion choices. Flowers said she is a real fan of GaGa and her work, but she believes they are totally different people.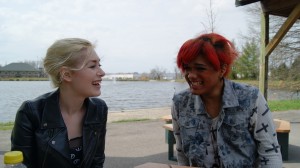 Flowers said she cannot pinpoint the exact inspiration behind her fashion from,
"I see something I like and I wear it," Flowers said. "There are definitely certain brands that match my personal style very well. I feel if you wake up every day and are excited to get dressed, well, then that's a really good thing. I guess I had a different relationship with clothes from my peers growing up."
Flowers said she feels fashion changes, and if students are truly involved, someone can sense the change. Being so involved in fashion, Flowers said she believes that many of her future fashion predictions come true.
"Honestly a lot of the fashion in Korea and Japan is getting stale," said Flowers. " America hasn't been on their game, and Paris is doing couture as usual."
According to Flowers, all fashion begins with street style. She said Japan and Korea have been trendsetters throughout the current years, but her prediction is that the new trendsetter will be Australians and their street style. Flowers describes the new designers and labels of Australian street style as futuristic and alien oriented.
Flowers said she prefers newer labels instead of older ones.
Flowers, known by her friends as Eva, said animals are a big part of her life. She is a vegetarian and owns a female hedgehog named Joe and four dogs. Flowers said she does not believe in wearing any unethical clothing made from animals.
Flowers' fashion sense can make a big impression on anybody, including her friend, Andy Smith.  Smith, English sophomore, used her "tactics" to start their friendship.
"Eva or Evie is always on point," Smith said. "Eva is very concerned with ethical things such as the rights of animals, trees and people. It is nice seeing someone involved and that hasn't given up on everything."
Aside from caring about her pets, fashion and being a member of the IUS Gay Straight Alliance, Flowers has plans on creating a business focused on her making accessories and selling them online.
She is releasing a mini collection within a month including a popular knee brace accessory like the one she wears on campus. The accessory has also been seen worn by Lady Gaga.
Flowers said fashion can be a way to be looked at, but also a way of life. She said even when trying to be trendy it is always important to wear clothes that you are comfortable in and make you happy.
Flowers said her motto is: "If it doesn't make you smile, then why wear it?"
By MYCHAL HARRIS
 Staff
 myharris@ius.edu