LMPD: A department and community in crisis
The final review of LMPD's practices and policies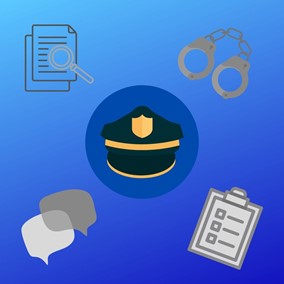 A recent report was given to Louisville Mayor Greg Fischer in late January regarding the Louisville Metro Police Department's overall review of their practices, policies, and procedures. The results showed that LMPD and the community "are in crisis" and "the Department needs to make major changes" as soon as possible.
The 155-page report conducted by Hillard Heintze, a security risk management firm, covers all areas of police activity and the community's interactions with LMPD. It gives a detailed evaluation of topics such as recruiting and hiring, community-oriented policing, the use of force, search and arrest warrants, crowd control and complaints against LMPD personnel among others. The report provides suggestions for LMPD practices, policies, and procedures that need improvement.
The analysis of LMPD began in July 2020 to gather data and assess overall functioning. The assessment team interviewed police officers, Louisville Metro Council members and the city government. They also held community listening sessions and sent out surveys to gain feedback and interviewed people that have been arrested by LMPD officers during pedestrian and vehicle stops.
The report found that Black residents experience bias from the police department. White residents make up 68.9% of Louisville's population while Black residents make up 21.2%. Traffic stops in 2019 consisted of 59% white residents and 43% Black residents, which shows an over-representation of the Black community.
Jay Rowen, a young Black woman that resides in Louisville, says that despite the prejudice that she, her family, and friends often feel, Louisville still feels safe to her compared to other major cities.
"I guess because I've lived here my entire life, so maybe that's where the security comes from," said Rowen. "I feel like I hear more horror stories from places like Chicago and New York and stuff, so to me, Louisville isn't that bad."
She also said that everyone she knows that is Black has experienced some form of discrimination from LMPD. Rowen said she was pulled over by an unmarked car once and the LMPD officer approached her with his hand on his gun before giving her a ticket, making her feel uncomfortable.
"I don't trust LMPD at all," said Rowen. "I fear the possibility of getting pulled over because it could be the end for me. It seems dramatic, but it's my truth."
The murder of Breonna Taylor was also mentioned in the Hillard Heintze report regarding LMPD's lack of following protocols and procedures for search warrants and recommended the department revise their training techniques and overall instructions and guidelines. Rowen said she was disheartened about the aftermath of Breonna Taylor's murder.
"Why is that okay and why does nobody care?" said Rowen. "I know for a fact if that was a white person the case would've played out differently."
The report recommends that LMPD revise their Search Warrant Major Case Investigation Manual and training materials in order to improve their procedures. It also recommends that their guidelines and instructions be updated for supervisors when reviewing probable cause affidavits to verify facts and circumstances before seeking a warrant from a judge.
The training provided to newly assigned detectives also needs reviewing and instructions need to be given to commanding officers so they can consult SWAT team commanders before asking for a warrant and executing it if the search involves encountering individuals. The report also recommends that officers that are serving a search warrant create a written plan that details steps that should be taken for their safety and others that may be at the location they are searching. Nighttime searches should also be avoided unless it is absolutely necessary to conduct one in order to prevent loss or destruction.
Mayor Fischer released a statement regarding the results of the report that has been uploaded to the Youtube channel LouisvilleMetroTV; "We will address these challenges," he said. "As a society, we too often ask police to address all of society's problems because society has failed to make the necessary investments."
He goes on to say that the police reform is guaranteed to happen and says the city needs to come together to take itself "from tragedy to transformation."
"The purpose of the study is to provide a roadmap for the Louisville Metro Police Department, ensuring that we are policing in a manner that best positions us to be successful," LPMD Chief Erika Shields said in a statement regarding the Hillard Heintze report. "For those deficiencies that are identified, we own them and will make the necessary adjustments leading to essential reform. I look forward to continuing to meet with officers and the community, engaging in dialogue in order to provide answers and clear direction for LMPD."