Zombie lawn gnomes? All part of the family business
Thirty minutes outside of downtown Louisville in Otisco, Ind. there lies a seemingly enchanted 15 acres of land where lions co-mingle with pigs, zombie gnomes stand next to the Virgin Mary and Bigfoot is spotted daily.
This is the home of Peggy Woods, also known as The Concrete Lady. Since 1976 she has sold bird baths, fountains and statues of almost anything one can imagine to the people of Southern Indiana and to stores around the country.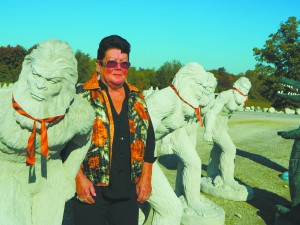 The 65-year-old Woods is a sweet, grandmotherly woman from Clarksville who does not rise far above one of her 5-foot tall alligator statues. Her unassuming stature could be why most people do not know who The Concrete Lady is.
"Most people think I am dead, or should be," Woods said with a laugh.
People may not recognize the lady behind the concrete, but they are likely familiar with the kaleidoscope of creations on display at the Jeffersonville store that can be seen from I-65.
What started with a five gallon bucket in a two-car garage now pumps out 400,000 pounds of concrete creations a month. A large industrial mixer portions out a specific amount of concrete which is then poured into a mold by workers. After the material dries the figure is removed from the mold, placed in its appropriate location on the lot and eventually hand painted.
The shop in Jeffersonville sells to the public while the Otisco location mostly wholesales to stores throughout North America.
In the beginning, however, Woods said she was just trying to help out some friends.
When Woods, her husband Carl and their two children moved to Otisco, she had to leave her fountains and statues behind. As she began to buy yard decorations for her new home, Woods said she started getting phone calls.
"People said 'get me this, find me that,' or 'can you paint that for me?'" Woods said. "So that's what I did, and I started charging for it."
In those days she did not have a store or a website.
"People would just call and ask for 'The Concrete Lady,'" Woods said.
The name stuck, and soon the whole family was pitching in.
"My kids grew up thinking everybody worked seven days a week," Woods said.
Eventually Woods convinced her husband to quit his job at P and P Rockway to help out around the Otisco complex and it was not uncommon for The Concrete Lady to call her children's school and have them sent home early to unload trucks.
"Everyone in the family has their role," said Tony Woods, Peggy's son who now runs the business. "My dad knows how to fix a lot of things which has really come in handy."
As the business grew Woods said not all of her competitors were happy that they were being outdone by The Concrete Lady instead of a man.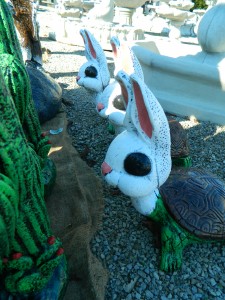 "There were times when people would say or do things and it would bring me to tears," Woods said. "But after a while they could have run me over with a truck and I wouldn't even mention it to Carl."
The Concrete Lady can attribute a large portion of its success to being different. Most operations of similar size make large amounts of four or five items. The Woods family, however, makes small amounts of a countless number of creations.
"We come out with about five new items a week," Tony Woods said. "And we'll make just about anything if the customer orders at least twenty of them."
The company has two sculptors that create molds for whatever the customer, Tony or anyone else in the family dreams up. Tony's son came up with the idea to create gnomes with machine guns and hatchets in order to combat the zombie gnomes they already sell.
"Next year we are coming out with a [Michalangelo's] 'David' statue that has a big gut," Tony Woods said. "It's redneck lawn art, but it's fun."
Molds are also sold at auctions, and Tony Woods said he tries to buy anything odd or hard to find.
The turbit, a half turtle, half rabbit, is one of his latest finds, and he has already sold a half dozen. But the turbit has big shoes to fill if it wants to catch what Tony said is the company's best-selling piece.
"The hottest item right now is Bigfoot," Tony Woods said. "We make a two-foot, three-foot, 4-foot and five-foot, and right now I'm sold out of all of them."
Peggy Woods said she is happy with all the different types of statues being sold now.
"He'll find something I've never seen before and I'll turn around to see a whole stack of them," Peggy Woods said.
Peggy Woods is retired but said she still goes to conventions and once a year she organizes a fall trade show on her property.
"Now I enjoy just cutting the grass," Peggy Woods said with a laugh.
The Concrete Lady now spend most of her time in her yard but there is a good chance one of her creations is in yours.