Barr Gallery a mix of national and IUS artists
National and local artists unite at IU Southeast every year to display some of their greatest work at the Ronald L. Barr Gallery in Knobview Hall.
Brian Harper, assistant professor of fine arts and Barr Gallery co-coordinator, said national artists come during fall semester while student, and sometimes faculty, shows are in the spring.
Hosting eight to twelve shows yearly, the Barr Gallery has drawn attention to IU Southeast's artists since the 1990s.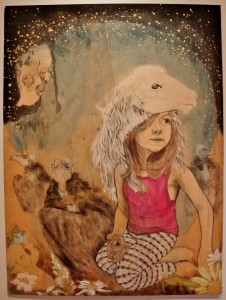 "One of the functions of the Barr Gallery is a teaching tool," Harper said. "There's always a component of the gallery that isn't just the show."
Students and faculty pitch in together to create the setting and scene of the gallery for every show. National artists who participate provide workshops and lectures for students.
Harper said due to low budget, national artists are paying for their own way to come to campus.
"[We are] being conscious of our resources. Part of our logistical planning is finding artists who can do that," Harper said.
57 pieces were accepted for the annual Juried Student Art Exhibition out of 140 entries submitted.
"For any given show, there's 1,000 to 2,500 people," Harper said. "I really like the sort of chance encounters people can have. I expect [visitors] to have a good experience viewing … artwork that may enlighten their sense about what's around them," Harper said.
The coordinators like to show a variety of artwork from prints, ceramic, video and performance to show students what is possible.
This was Pamela Castorena's, fine arts senior, first time presenting artwork in the Barr Gallery; her "Of Monsters and Men Poster" was exciting for her to be seen hanging "next to the works of other talented classmates."
"A lot of my graphic design work tends to be simple and light just like the poster that is in the gallery. I think that simple and light are often the best way to boldly get a point across,"Castorena said.
While graphic design is her primary concentration, she has ideas to gain experience and move to a big city to pursue her skills in graphic design and advertising where those mediums are "more alive."
Castorena is still deciding what to focus on within the field, but the Barr Gallery has given her a great opportunity to grow.
"It is an honor to represent the Fine Arts program by having my work featured in the gallery," Castorena said. "To me, art is important because one can express who they are, how they feel and how they interact with the world and one another."
Castorena said it is a way of communication that is freeing, with no boundaries and no limits.
"Part of being an artist is being willing to experiment, because it's always a learning experience whether the piece turns out or not," Shelbi Boehman, fine arts senior, said.
Boehman's "Before They're Gone," was her first piece of artwork ever displayed in a gallery.
"I feel like all those nights of no sleep and energy drinks paid off," Boehman said.
Art has been by Boehman's side her entire life, so she strives for an emotional connection from her viewers. "Being able to create something amazing with my own hands is more important to me than money," Boehman said.
For now, she wants to continue to create art, "dabble" in illustration and eventually teach.
"My fiancé, my family, and all the awesome artists I've met at IUS inspire me to keep creating and bettering my skills," Boehman said.
Kirsten Goodman, fine arts senior, is delighted to get a reaction out of viewers because of "the mere fact that [she] can make something beautiful and thought provoking out of what is considered 'insignificant.'"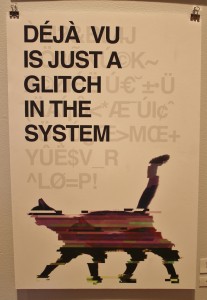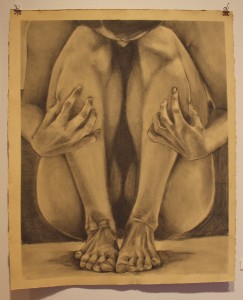 She said when she enrolled, she studied to be a forensic scientist yet she knew she was destined to be a fine arts major because art had always been her passion.
"I am dual program fine arts ceramics and honors scholar. My ultimate goal is to open my own teaching studio to the public," Goodman said. "The Earth without ART is just "eh."
Harper said the administration has been very supportive despite the cuts.
"It's a big job to put on those shows," Harper said. The last show during the fall semester took a year of planning.
"The arts, whether it's music, theatre or visual arts brings so much to the campus community."