National Society of Leadership and Success welcomes new members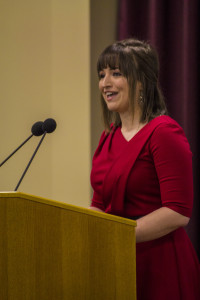 Fifty-six new members were inducted into the IU Southeast chapter of the National Society of Leadership and Success Sunday, April 27 in the Hoosier Room.
The society is a national merit-based organization which strives to help students develop strong leadership skills and prepare for future careers. According to the website, societyleadership.org, the mission is to "build leaders who make a better world."
Although only in its fourth year, Cari Edwards, co-advisor of the IU Southeast chapter, said that with more than 400 members, it is the largest organization on campus. To be inducted with a presidential level certificate, students must have a GPA of at least 3.3 Out of the 56 inductees, 46 had reached this level.
Edwards said certain requirements have to be met before a student can be inducted. In addition to an orientation, each must complete three webinars, answer related questions and attend a Leadership Training Day, which is led by different people from the local executive board.
Students must also complete three Success Networking Team meetings. In these, students are put in groups of five or more and each commits to a certain goal. The other members offer feedback and support. As co-advisor, Edwards must approve these goals.
"Some of the goals are to get an A in a class, to pass a test, maybe to become more fit, to lose weight, Edwards said. "It can be anything."
Since they are not necessarily grouped by major, Edwards said the students get the opportunity to work with others in different disciplines.
"I've heard this over and over—that they've gotten to meet students from various areas that they never would've gotten to know and they've become close because they meet, and they still sometimes continue to meet afterwards," she said.
The ceremony also welcomed in the new chapter officers: Ashley Celestine, president; Shelbi Tate, vice president; Kristin Kennedy, secretary; Kenneth Carver, treasurer and Jessica Lynch, co-advisor.
David Baird, James Hesselman and Tonya Broughton received Excellence in Teaching awards, and Gregory Roberts was given the Excellence in Service to Students award. Interim Chancellor Barbara Bichelmeyer was the keynote speaker also received an honorary membership.
Member Ashley Storms spoke on her experience in the organization.
"I really think Ashley spoke about how it helped gain her confidence it gave her confidence to understand the skills and abilities she had as a leader and then knowing that to be able to progress from there," Jessica Lynch, co-adviser of the chapter, said.
She said she sees the organization as instrumental in helping students discover their potential and capitalize on their strengths.
"I think that's a starting point that it gives you a general introduction into what you can do and different routes and ways that you can go in life, and looking at leadership in different capacities—it can just excel who you are as a person," she said.