University Commons: off-campus apartments scheduled to open by January 2015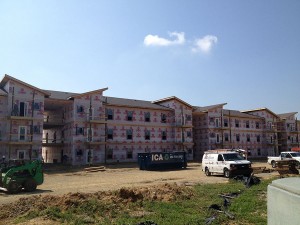 Trendy white sofas, warm lighting and a huge orange, spiral slide leading from the second to the first floor. This is the view from inside APi Construction Management's office building. From the outside, ordinary industrial park warehouse building. On the inside, super glam retro playhouse.
APi is the company in charge of building University Commons, the new apartment complex on Hausfeldt Lane. in New Albany. University Commons owner, Alan Muncy, said the new apartments should be almost as fancy as the office.
"We're going to be a nicer product in town," he said, "pretty upscale for what I would consider to be a very reasonable to low price point."
Muncy said some of the complex's features will include metal finishes, galvanized awnings and wire mesh infield railings. There are also future plans to open a coffee shop with a drive-thru on the same property, he said.
Katie Blohm, leasing coordinator, said she agrees with Muncy's expectations for the apartments.
"I've worked in student housing all around U of L, and nothing that I've ever worked with is going to be what we're about to see," Blohm said. "They're going to be top of the line, but still at that price point that is affordable to everyone."
The price point is $890 a month for a two-bedroom, two-bathroom unit. The complex in its entirety will be comprised of 60 units between two buildings.
Up to four students can live in a two-bedroom, two-bathroom unit in one of the lodges at IU Southeast costs for $3,140 per semester, which averages to about $628 a month. A University Commons unit will house two people.
There is benefit to being directly on campus, but there are still students who prefer the off-campus lifestyle. Malloy Johnson, communications junior, is one student who recently chose to live off-campus.
"I made better grades living in the residence hall, but I moved for the freedom," Johnson said There are a lot less rules living off-campus."
Muncy said aside from the benefit of being available to both students and non-students, he thinks the apartments make a good fit for students who attend a non-traditional school such as IU Southeast.
"If you're a married couple or if you're a non-traditional student attending IU Southeast and have two children, can you live in a dorm? You can live at our development,"  Muncy said.
Muncy said he also sees a major need for housing in the area. The apartments are located across from the IU Southeast campus, a very convenient location for students. But the proximity to the university was not the only factor in choosing the location, Muncy said.
"I am a resident of Floyds Knobs and know the area well," he said. "The Ohio River Bridges Project is going to increase traffic on I-265 and lead to future growth here."
The first building in the complex is estimated to be completed will be completed by Dec. 1, 2014. The second building is expected to be finished by January 2015. Muncy and Blohm said that they are planning to have an open house in October where those interested can view a model unit in the complex.
The original plan, Muncy said, was to have the apartments completed by the start of school this August, but unpredictable weather interfered. At first it was the long winter that stalled the building process, Muncy said, but the problems did not end there.
"We're still having weather issues," he said. "It doesn't usually rain this much this time of year."
Construction delays aside, both apartment buildings are scheduled to be open and ready to lease by the beginning of 2015.