IU Southeast Career Development Center prepares students for real world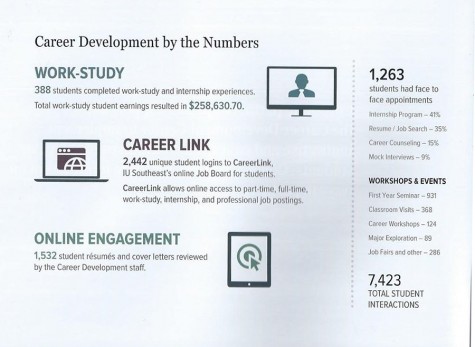 The IU Southeast Career Development Center, located in University Center South, room 106, is a great tool for students who are in the process of job searching for after graduation and those who have no idea where to begin.
Lynn Prinz, assistant director, explained what all the Career Development Center has to offer students.
"CareerLink is a good tool for students to find out what employers are expecting, what qualifications, and what extra things besides your degree they are looking for," Prinz said.
Prinz said CareerLink is available for students online through the Career Development Center. Students can log in using their username and password as usual. Once logged into CareerLink, students can answer profile questions to best tailor their searches to them.
However, if students are looking for an internship or jobs that require a degree, they need to contact the Career Development Center and get permission to view the full posting instead of the short description.
"The employers who put jobs on CareerLink are really expecting our students to answer those ads. Those are ads that are primarily for them," said Prinz.
2012 graduate Holly Terry, who is currently working on her Masters in Business Administration at IU Southeast, said that the Career Development Center was very helpful to her when she was looking for internships her senior year and even now.
"They really were there to help me develop and grow," Terry said. "They put me out there to network more and to talk to more people."
Terry said she wishes she would have gone to the Career Development Center even sooner than she had.
"They really are there to help you not only find a job, they are teaching you the whole career path," Terry said.
Branden Mikesell, accounting and finance senior, said the Career Development Center really helped him with building his resumé.
"I was looking at my resumé the other day from where I started until now and they helped to perfect my resumé," Mikesell said. "Especially with accounting; there there is so much competition so even a couple of word changes can mean getting the position or not," Mikesell said.
Josh Suiter, IU Southeast Alumni and director of Signature Events and Special Programs at One Southern Indiana, said the Career Development Center has had a big impact on him since he graduated in 2003.
"I wouldn't be where I am not without the folks at the IUS Career Center. I know that whatever I need, Trey Lewis and his staff are going to help me," Suiter said. "The key thing is they give you a good foundation of your resumé, interviewing tips, and it's a great place to look for a position."
Prinz advised that students start searching for jobs they are interested in around five months prior to graduation. She said five months allows students who haven't done an internship to complete one. Also, it will help those who are job searching because finding the right position can take some time.

"Look at the job posting and figure out how you can customize your resumé to fit the job posting. Career Development is happy to help if the job posting isn't on CareerLink, send us the job description with your resume," said Prinz, "It helps us critique the resume and offer suggestions on how you can better hit what employers are looking for."
Prinz also encourages students to stay active in CareerLink. If the Career Development Center sees students staying active in their job search, they can do a database search and send the students job postings that fit their needs and ask if they would like to apply.
Rose Shannon, program coordinator and career counselor for the Career Development Center, said, "Keep your information up to date in CareerLink. We can see how active students are in the system and how many have applied or view positions. That helps us see which students are searching and we can let them know about new opportunities as well get them."
Suiter gave some insight on what employers are expecting from students for both internships and job positions. He said employers look for applicants who dress the part, show personality and skills and who can sell themselves.
For more information on internships or job openings or help with your resume, go to the Career Development Center, University Center South, Room 106.
All images taken from The IU Southeast Career Development Center 2013 Annual Report, 2013.