$500,000 nursing lab dedicated, gives student hands-on experience
Set up with monitoring equipment beeping and medicines flowing, the new nursing simulation lab at IU Southeast gives students a way to practice diagnosing and treating simulation mannequins who can have the same ailments or complications nurses are confronted with after graduation.
IU Southeast officials cut the ribbon Wednesday, Nov. 12, on the Judge Carlton and Sue Sanders Laboratory for Nursing Education. Built with a $500,000 gift from the Sanders, the lab allows the university to expand its nursing program to meet increased regional demand for healthcare.
IU Southeast Chancellor Ray Wallace said these new facilities – with an updated 12-bed skills lab and pediatric, adult, and birthing simulation labs – will put students in hands-on situations just as they will encounter after graduation.
"Our nursing students will have the equipment and the facilities they need to graduate with the skills required to meet the serious demand for healthcare in our region and beyond," said Wallace.
Sara Hausz, nursing senior, said having almost double the beds and a much larger space with responsive simulation patients, challenges students to come to a diagnosis whether it is something as simple as a cough or something more complicated like a kidney infection.
She said that the simulation patients can even possibly flat-line, and students can get first-hand experience with this scenario.
"It is nice to have a safe place to make mistakes like a real-life situation and learn from it," said Hausz.
She said simulation patients can talk and have full bodily functions, which are controlled by School of Nursing professors, who sit behind two-way mirrors observing the students' work.
"
It is nice to have a safe place to make mistakes like a real-life situation and learn from it"
— Sara Hausz, nursing senior
April Wright, nursing senior, said that the new technology provides IU Southeast nursing students with experiences like checking vital signs on patients, administering medicine and working on nursing teams just as they will do when they graduate.
"We have the technology now for real-life experiences, like changing dressings or doing IVs," said Wright.
Wright said having this technology on the IU Southeast campus will certainly better prepare them for diagnosing and bedside treatment. Wright said the birthing lab, which hosts a simulation patient that goes through the process of contractions to the actual birth, is great hands-on experience before working on a real patient.
" [The simulation patient] will even give birth," said Wright.
Laura Mcilvoy, associate professor of nursing, said the new labs provide students with the opportunity to use equipment with important real-life experiences.
"We have state-of-the-art equipment now and room to use it," Mcilvoy said. "It will be much better for students to have these lab simulations."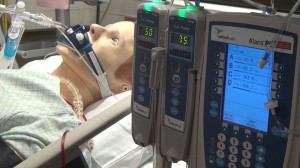 The Sanders' gift was announced in March 2013, and the last year and a half has been spent renovating facilities. Sanders said when the award was announced that he recognized a need in the program that trains many nurses in the region.
"We saw the duct tape, Scotch tape and Band-Aids on the equipment," he said in a Horizon article announcing the award. "We determined that, that would be a good place for it to go."
Sue Sanders said she and her husband came to the decision that by funding the renovations and new technology for the School of Nursing they would not only be helping the university but the community as well.
"We both agreed since we're not getting any younger, that quality nursing care is what we and the community will need going forward," said Sanders.
About the Contributor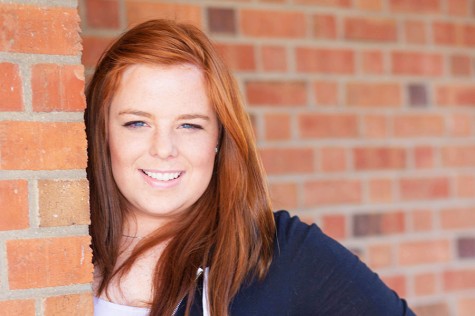 Haley Warwick, News Editor (Spring 2015); Staff Reporter (Fall 2014)
Hello Horizon readers! My name is Haley Warwick and I am your news editor for The Horizon news source! As news editor I want to know what's going on...