Kupinski Guitar Duo: a new tune on classical music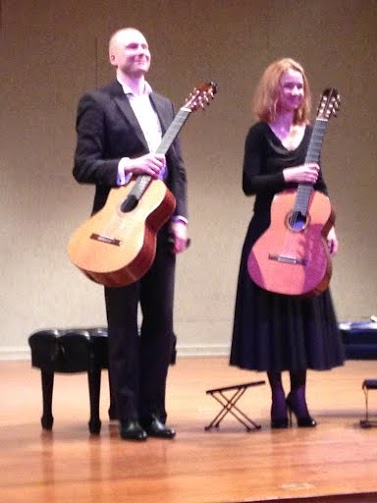 The violin, the viola and the cello are a few string instruments that are commonly used to perform classical music. Ewa Jablczynska and Dariusz Kupinski strum a different chord by producing classical music with a contemporary instrument: the guitar.
Jablczynska and Kupinski perform classical music together as the Kupinski Guitar Duo. The duo performed in the Millicent and Norman Stiefler Recital Hall in the Ogle Center on Monday, March 30 from 7:30 to 9 p.m.
According to the Kupinski Guitar Duo's biography, Jablczynska and Kupinski are from Poland, and they have been performing together since 2011. The duo is popular in Europe.
In addition to performing as the Kupinski Guitar Duo, Jablczynska and Kupinski teach guitar classes in Poland. Jablczynska teaches at the Institute of Music at Jan Dlugosz University in Czestochowa, Poland, and Kupinski teaches at the Karol Szymanowski Academy of Music in Katowice, Poland.
Sarah Allen, music sophomore with a concentration in audio production, said she is required to attend several music performances, but she wanted to attend the Kupinski Guitar Duo's concert to hear what classical music sounds like on the guitar.
"I'm really interested in guitar kind of things, and that's really what made me decide to come here, just to see what classical guitar was like as opposed to modern guitar," Allen said.
The Kupinski Guitar Duo performed a variety of classical pieces, including "Rhapsody in Blue" by George Gershwin, portions of "Mazurka" by Frederic Chopin, "Sonata Fantasia" by Dusan Bogdanovic, and others. The duo arranged most of the pieces it performed.
During the concert, Jablczynska said she and Kupinski enjoy playing "Sonata Fantasia" because they believe it is an interesting piece. She said it contains a mix of various influences, including folk, modern, classical and others.
Allen said those influences enabled her to enjoy listening to "Sonata Fantasia" the most.
"It had a little bit of everything, and I think (Jablczynska) said it was a little bit of modern stuff, a little bit of classical mixed in, and I really liked the little flourishes of stuff that she did," Allen said.
Chris Lang, mathematics professor, said "Rhapsody in Blue" was his favorite piece the Kupinski Guitar Duo performed.
"It's a familiar and enjoyable piece, and they did an absolutely marvelous job arranging and performing it," Lang said.
Kiara Watts, pre-music junior with a concentration in music industry, said she enjoyed listening to the Kupinski Guitar Duo, and she said she would be interested in attending similar concerts in the future.
"I'd just be interested in going to something else like this coming up, or if we have another event like this," Watts said. "Hopefully we have more."
Lang said he appreciates the fact that the Kupinski Guitar Duo and similar groups have been able to perform at IU Southeast.
"I'm very glad that we have these kinds of performances on campus and I'm able to go see them," Lang said.