The journey is worth it
After transferring to IU Southeast, I was completely uninspired and unhappy with my college career. As said transfer student, I had loved being an English major at another college and switched to a business major my first semester here as a junior, because that's what most people around me told me I had to do to have a successful career.
They were full of a lot of words and little wisdom, but we'll get to that. This is where the trouble began. Just going to classes and taking tests mostly on subjects I was totally uninterested in was far from what I wanted to do.
I hated what I was doing—memorizing facts and figures wasn't doing it for me—none of these classes expanded my mind in the way I wanted to learn, and frankly, I was on autopilot.
Attending college is a great responsibility to engage in. Trying to decide what you want to do for the rest of your life while trusting faculty to help get you there can be a pivotal point in a student's life; a point you may have to revisit as well.
I felt myself slipping and in a crunch to figure out what I was going to do under this imaginary four year deadline I now realize doesn't exist; I was either going to keep up with the façade, or jump into something else entirely.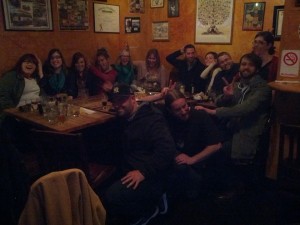 That's when I found myself sitting in Adam Maksl's journalism reporting and editing course and Ron Allman's visual communication class, among other makin' journalisms courses spring semester 2014.
This is also where I found my love for being a student again. What started as a gloomy and snowy semester moved slowly to rain and greenery, I started to feel like myself for the first time since transferring colleges. I was excited to go to my classes to talk about writing, designing and producing stories.
I began researching all the things I could do with my journalism major, and I was finally looking forward to life after college. I also have to say that just about every single professor I have had at IU Southeast has made some sort of impact on me—and I don't feel like that's something everyone gets to say about their college experience.
I know that I could not have picked a better university. It was the perfect choice for me—even if it was a rocky start. Professors like Adam Maksl and Ron Allman in the journalism program aren't at every university.
It's not every professor that lights up about what they do, and encourages you to constantly work at your craft, even if you fall down majorly. People say IU Southeast is a hidden gem. From my experience with our professors, the beautiful campus, and all of the ways in which students can get involved, I have to say that I would agree it is a gem.
But like Chancellor Ray Wallace has said, why is it hidden? I have proudly converted two friends to become IU Southeast students, and I will always encourage people to attend this university.
And the fact that in less than three weeks I will be walking across the stage to receive my diploma from this university still doesn't seem real— I have self-identified so strongly as a student for five years that I can't imagine the moment yet—but I couldn't honestly feel more prepared.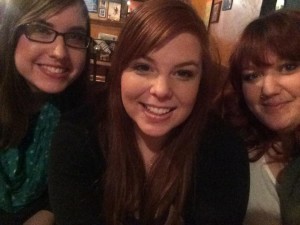 And whether Adam Maksl knows it or not, his excitement for The Horizon and his excitement for journalism really opened my eyes that I could do something I love and make it my career.
I don't remember the specific first time he said it, but he is always saying we're not student journalists, we're journalists that happen to be students. I've said many times this semester I'll miss this campus and its people.
There is just something different about being on a college campus; the atmosphere is entirely different than anywhere else. This is the place I've made many friends I know will go long beyond these few years.
This is the place I figured myself out, and what I want to do with my life. I mean, this is the place I high-fived the Chancellor while in a bear costume.
So basically if you are in the middle of the bridge and it's swaying in the winds of uncertainty, just trust your gut. Do what you're passionate about, do what you love, and you'll find ways to make it work for you.
I also must say I'm lucky enough to have parents that encourage me and support my passions. Switching my major so late in my academic career was not easy, but it was something I needed to do, something that made this journey worth it.
I am unsure if I would have had the strength to do it if my mother did not encourage me to follow my heart.
And graduating doesn't mean that what we're done with this campus or finished with these years. Tell people it's a gem and encourage them to be a Grenadier. What we picked up here will go with us for the rest of our lives, and I'm ready for this next chapter to begin.