One man, two sports
This year, senior Jordan Thompson will step onto the hardwood court to finish out his collegiate basketball career. After that, he will then stand atop of the white rubber slab that is approximately 60 feet and six inches away from home plate for the first time in four years.
Thompson plays center for the IUS men's basketball team, and starting this year, he will pitch for the first time in his collegiate career for the IUS baseball team.
Playing two sports and managing the responsibilities of college seems like a huge workload for anyone but for Thompson he's been doing it his whole life.
In fact, Jordan played sports in all three seasons in high school.
"This isn't new to me," Thompson said. "I did this all the time in high school."
Jordan graduated from Floyd Central High School in 2012. High school was a big athletic venture for Jordan.
He played football in the fall, basketball in the winter and then finished the school year up with baseball.
The only season he missed of the four years playing was his junior year, where he broke his right tibia in a basketball game that winter.
Jordan said that football and basketball were his two favorite sports because of the constant action, but he has always had a love for being on the mound.
The one thing that held Jordan back from playing baseball in high school was the fact that he was injured for most of the baseball seasons.
In his junior year he fractured his right tibia and was very limited in his senior year because he pinched a nerve in his neck.
Jordan said that his freshman and sophomore years on the mound were the best he has ever pitched. He said the best game he ever had was a game against St. Xavier High School.
The Highlanders ended up losing, but while Jordan was on the mound he gave up only two hits and no earned runs.
"My high school baseball career was short lived and I didn't really play much due to injury," Jordan said. "I am looking to trump all those high school seasons with one outstanding college season."
One of Jordan's biggest supporters is his mother, Toni Thompson.
She said that Jordan and his brother, Jeffrey, participated in all of the sports in high school.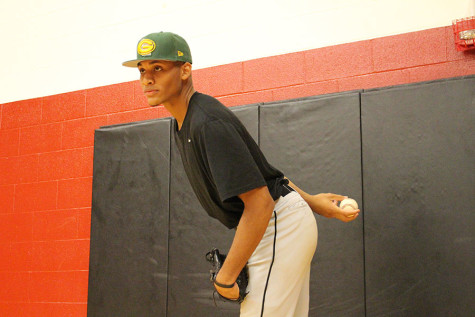 Jeffrey is a former three sport athlete for the Floyd Central Highlanders, and graduated Floyd Central High School in 2010.
He is two years older than Jordan and half an inch taller, but Jordan says that he can beat Jeffrey in any competition that they play.
Even in high school Jordan looked up to his brother Jeffery.
"Jeffrey was a big influence when we were in high school," Jordan said."I saw him participating in multiple sports so I did the same thing. I tried everyday to be better than my brother."
Jeffrey is currently playing baseball with the West Michigan Whitecats, a single A team in the Detroit Tigers organization.
Toni said that it wasn't that her sons needed all the attention, but that it was more like they wanted to see which sport they liked the most.
Father Jeff Thompson already had his sport picked out when he was younger.
He too was a college athlete, and he chose football.
Jeff said he loved going to the football games, but now has developed a love for baseball because he said it is the biggest sport in our lives right now.
The supporting cast for the Thompson brothers are constantly moving. From going to the Activites Building to traveling all over the US to watch Jeffery play.
Toni said that Jeff and herself are at just about every game, but it isn't just those two supporting Jordan and Jeffrey.
Jordan said that he can expect five to ten other family members to come and support.
And sitting next to the big supportive family is the other Thompson brother.
"There was no animosity between them," Toni said. "They always supported one another. Every time Jefferey is in town he tries to make it to one of Jordan's game and vice versa, and Jeff and I are right behind the one watching."
She said that Jordan is fully capable of of the physical aspect of playing two sports, but the thing she is scared of is him having enough time in the day to do all three things: basketball, baseball, and school.
Jordan said it was time to try something new. Instead of only having one practice a day and being a full time student, now Thompson goes from basketball practice to baseball conditioning and then throw being a full time student on top.
Thompson, however, has no doubt that he will be able to succeed.
"I love being challenged," Thompson said. "All I am doing is trying to make my senior season one to remember because once it's over it can easily be forgotten."
Having a brother that has already been through the college athletic experience helped Jordan understand what he will experience in his senior year.
"In some ways, they look up to each other," Toni said, "Even in high school, Jordan watched Jeffrey participate in all three sports. It showed Jordan that he can take on the challenge too."
Thompson has been on the basketball team for all three seasons, and is looking to bounce back after the team went 8-16 last season.
Before last season, Thompson was on the 2013 Final Four IUS men's basketball team, which Thompson says was one of his best memories from IU Southeast.
In his three years as a collegiate athlete, he has seen the floor quite a bit playing in a total of 66 games as a Grenadier.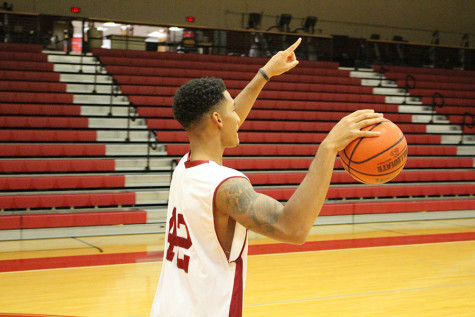 He has scored 137 points, 85 of them coming in last year's season. He also has grabbed 213 rebounds.
The head coach of the IUS men's basketball team, former University of Louisville basketball player, Wiley Brown said that Thompson's athletic ability set him apart from other players.
"Jordan gets a lot of easy dunks and and blocks around the rim," Brown said. "His athletic ability is amazing on the court and even in the weight room."
Jordan and the Grenadier's season begins on Oct. 24th away against Harris-Stowe State University Hornets, located in St. Louis. Three days later, the Grenadiers have their home game against St. Catharine Wildcats.
About the Contributor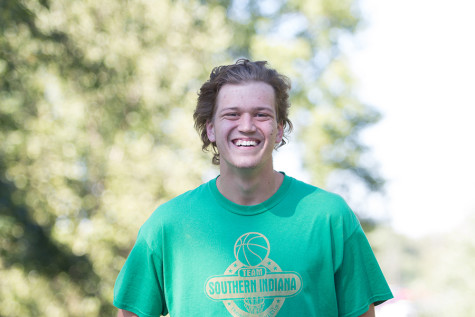 Parker Henes, Sports Editor (Spring 2016); Staff Reporter (Fall 2015; Fall 2014)
My parents called me Parker in the wonderful year of 1993. Fun fact, every five years my birthday is on a Friday the 13th. I am passionate about sports...