Grenadiers struggle in regular season finale
In the final game of the regular season, the IUS volleyball team fell to Cincinnati Christian University (25-19, 22-25, 23-25, 21-25) on Thursday, Nov. 5 as they finish the regular season with a 17-16 record.
The Grenadiers were without Hannah Joly, freshman outside hitter, who was out with a concussion.
In the first set, with the score tied 7-7, the Grenadiers went on a 11-7 run to take a 18-14 lead. The Grenadiers then went on a 7-5 run to win the set 25-19.
After the first set victory the Grenadiers would struggle the rest of the match.
The Grenadiers opened up the second set with a 6-1 lead. The Eagles, however, would come back with a 4-0 run to come within a point of tying the set.
Later in the set, the Grenadiers were able to get a comfortable 12-7 lead but then the Eagles would begin a comeback.
Then later on in the set, the Eagles would take a 16-18 lead against the Grenadiers and would end up winning the second set 22-25.
With the match tied at one set apiece the Grenadiers looked to win the third set starting off with an early 7-2 lead.
Once again the Eagles were able to even the score as they would tie the set 10-10.
Yet again the Grenadiers would have a 19-16 lead but the Eagles would comeback and win the set 23-25.
"Volleyball is a game of streaks and for this game our communication broke down," Katie Fischer, junior middle blocker, said.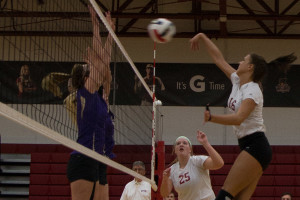 Things changed in the fourth set as CCU was using its momentum from the previous two sets as they would lead the set 9-14.
Throughout the set, the Grenadiers had a hard time coming back as they would lose the fourth set and game to Cincinnati Christian 21-25.
Four Grenadiers had double digit kills in the match. Freshmen Maddie Jacobi, defensive specialist, and Monica Loftus, right side hitter, each had a team-high 11 kills.
Fischer and Kelsey Willinger, sophomore outside hitter, each had 10 kills in the loss. Hannah Barker, junior setter, had a game-high 42 assists.
With the regular season being over and the KIAC tournament next week, the Grenadiers look to prepare for the tournament and win it.
"We need to find our other gear for the tournament and it's a clean slate from here on forward," head coach Eric Brian said. "I say we win the tournament."
The KIAC tournament begins Friday, Nov. 13.